Please Tell Me Jennifer Aniston Is About to Grow in a Silver Streak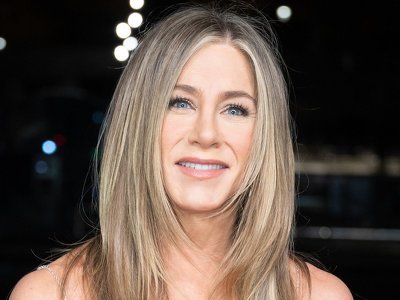 You've heard the phrase "give them an inch and they'll take a mile," right? Well, that's pretty much exactly what I'm doing after seeing Jennifer Aniston's latest Instagram post. She's giving literally one square inch of gray hair and I've made the executive decision that she needs to grow it out as an extremely cool silver streak.
Aniston posted a cute little Instagram Reel on Friday, June 2, to tell fans about her brand LolaVie's Intensive Repair Treatment, and while we're excited about the new product, it's hard not to also be excited about what appears to be the beginnings of a gray streak à la Bonnie Raitt, Michelle Visage, or Stacy London. Aniston's hair is casually pulled half-up with a few pieces hanging loose in front, letting us see what appears to be a bit of gray growing in just off-center at her hairline among her otherwise blonde highlights.
Although a few commenters were full-blown A-holes about the grays — some had the actual audacity to tell her she shouldn't let grays show yet while others said she looks pretty despite it (eye roll) — others are just as here for the gray hair as I am. "Well done for allowing gray to come through — refreshing," one fan wrote, while another said, "Jen, your hair is just a masterpiece and everybody agrees."
This content can also be viewed on the site it originates from.
Personally, I would be thrilled to see the superstar go Rogue. (Get it? Like the X-Men character with the white streak of hair? Sorry.) But after those Instagram comments, let's take a moment to remember: It's totally up to Aniston — not fans or critics — what she does with her hair.
More celebrity hair inspo:
Now watch Jennifer Garner weigh in on TikTok trends:
Follow Allure on Instagram and TikTok, or subscribe to our newsletter to stay up to date on all things beauty.