Your Pisces April 2023 Horoscope Predictions Are Here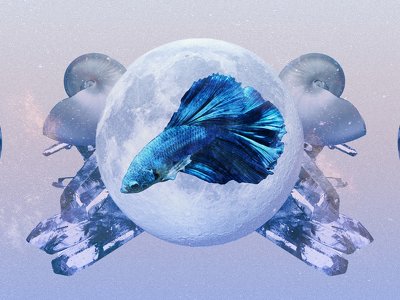 Read your sign's 2023 horoscope to see what's in store for you this year, or check out the Pisces personality profile. To read monthly predictions for another zodiac sign, see our full April 2023 horoscope.
Welcome to April, Pisces. This month brings a stressful eclipse and the start of Mercury retrograde, but also cozy nights with friends, deepening of relationships, and professional opportunities. During March, thanks to moves from Mercury, the messenger of the gods, you could handle professional discussions with confidence. Unfortunately, the economy is far too screwed up for an astrologer to promise cash, but I can tell you what days the stars say are more bountiful than others. On Monday, April 3, Mercury enters luxurious Taurus and your 3rd House of Communication. With Mercury transiting into your communication house, and the influence of Taurus, an earth sign, which means it's associated with abundance, this date could bring positive results from any work or money-related talks you had last month. Just remember, Pisces, you're a star and deserve the world, so work on maintaining confidence to stay aware of your self-worth.
Beautiful, bright full moons are associated with culminations but can stir up drama.
You are in a time of change, Pisces. Wednesday, April 5, brings a full moon in Libra and your 8th House of Sex, Death, and Transformation. Beautiful, bright full moons are associated with culminations but can stir up drama. Keep an eye on your inbox around the Libra full moon during your work hours, as you may receive some welcome news on the professional front or related to a creative project or hobby. However, when you're done for the day, sign off, and enjoy a relaxing night in. This is a night for rest; partying or overconsumption of alcohol, or whatever your favorite vice is, may lead to petty fights or bickering. You'll likely feel like a homebody for most of the first half of April, and it's okay to lean into that. On Monday, April 10, sweet Venus enters talkative Gemini and your 4th House of Home and Family, putting you in the mood for low-key hangs with friends or lovers, so consider having a small dinner party or a get-together at home.
Read more:
Unfortunately, the full moon isn't the only astrological event in April that could stir up drama. Wednesday, April 19, brings a new moon and solar eclipse in passionate Aries. Eclipses can bring swift and often unexpected change. They close the doors that you're afraid to shut on your own. So, if there's a relationship you've been meaning to end, but putting off, try to have those conversations before the eclipse comes around. However, once the sun enters Taurus, kicking off laid-back Taurus season on Thursday, April 20 (yes, Taurus season starts on 4/20), anxieties should lower, drama will cool off, and depending on where you live, the weather will be warmer, bringing outdoor adventures, picnics, and the blooming of flowers. And, at the risk of sounding like a cliche, stop and smell them. As the past few years have demonstrated, life can be stressful, to say the least, so it's important to savor the calm and joyous moments.
The day after Taurus season beings, on Friday, April 21, Mercury retrograde begins, but I don't want you to worry Pisces. Overall, Taurus season should be a relaxing time to recharge, and you've survived countless Mercury retrogrades already. Just read the fine print before signing any important documents, allow for extra travel time, and if you're sending nudes, please make sure that you're sexting the right person. Enjoy the happy change of seasons, and we'll see you in May.