MFW Spring/Summer 2023: The Best Hair and Makeup Looks of the Season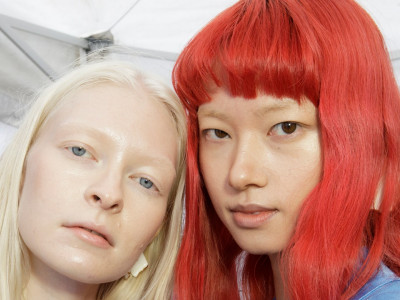 We're halfway through Fashion Month, not that we want it to end. These weeks in September always give us more than enough beauty inspiration to hoard for the fall and winter. We've hit New York and London — seen architectural hairstyles and gilded face adornments — and have made our way to Milan.
Milan always brings tons of color and opulence, as made evident on the runway by Prada's geek-chic eyelash extensions or the pin-straight and sleek lobs at Fendi. If you're in search of a new hair color, in particular, take notes: we have everything from copper to a silver spay paint moment on this list.
We at Allure are breathlessly covering all the best hair and makeup at each major fashion capitol. So buckle up and get ready to see what's good in Italy.
Can we interest you in some fire engine red hair tinsel? We especially love how this hair look at Diesel matches the distressed thread on the model's shirt. Coordination!
The unofficial hair color trend of 2022 has also been well-represented on runways in New York and London. So here we have it in Milan — looking particularly twee when paired with the sharp black eyeliner.
Leave it to the Fendi runway to give us the amount of sparkle we need to do a happy dance in our seats right now. This low-key look instantly brightens up an otherwise simple makeup look.
By Gabi Thorne
By Aliza Kelly
By Anya Meyerowitz
The easiest way to spice up a hair look is to throw on an accessory, and we especially dig this braided headband on Roberto Cavalli's runway. It's giving Renaissance painting, which is certainly apt for an Italian show.
In 2022, we match our temporary hair dye to our lips. This version of the trend on Daniella Gregis' runway nails it.
By Gabi Thorne
By Aliza Kelly
By Anya Meyerowitz
It's like we woke up in the past — is anyone getting major lob-era Kim K by this Genny hair look? Somewhere, Jen Atkin is smiling.
It's a classic quandary: what beauty look do I pair with my mint-toned swimming cap? Take a page out of Max Mara's playbook — keep thing simple, with a tinge of coral lipstick.
By Gabi Thorne
By Aliza Kelly
By Anya Meyerowitz
Here we have another braided headband on MM6 Maison Margiela's runway, this time alongside a soft baby pink lipstick.
Yes, we're all stoked for The Little Mermaid reboot and it shows. Here on Marco Rambaldi's runway, one model got to try out their own version of Princess Ariel hair. Fork hair comb optional.
By Gabi Thorne
By Aliza Kelly
By Anya Meyerowitz
Alberta Ferretti's runway gave us the wet hair look of our dreams — that slicked-back, on-the-go vibe remains a sporty go-to.
Who cares if this somewhat spooky look will keep me up at night? The artistry and the vibe of it is just so good. This is what we go to fashion week to see — at Prada, no less.
Read more about beauty trends:
And now, watch our October cover star Quannah Chasinghorse get ready in 10-minutes:
Don't forget to follow Allure on Instagram and Twitter.