Sydney Sweeney Chopped Her Hair Into a Lob and Said Goodbye to the Middle Part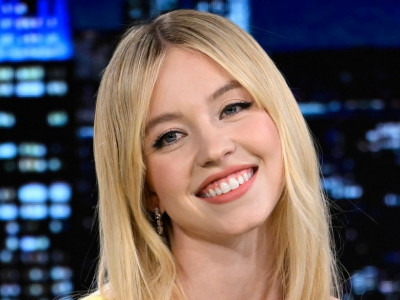 Sydney Sweeney plays one of the main characters on Euphoria, a series that has ushered in many of Gen Z's favorite beauty trends, but she may wind up ending another.
Okay, it's really not that serious, but Gen Z did repopularize the middle part after years of dramatic side parts dominating the hair game — even Kate Middleton adjusted the way she parted her signature loose waves in 2022!
Now, after cutting her long blonde hair into a layered lob, Sweeney debuted the look with her hair parted — gasp! — on the side. In the stunning photo, the actor wore a loose robe off her shoulders and a pink pouty lip. Overall, the vibe was very Marilyn Monroe.
Here's what her hair looked like at a Red Sox game on July 22:
And here is Sydney Sweeney's new look:
This content can also be viewed on the site it originates from.
Despite the Euphoria hiatus, Sweeney has kept busy with multiple brand deals and upcoming projects. In fact, the actor recently claimed she can't afford to take a break in a recent interview with The Hollywood Reporter.
Unfortunately, her packed schedule led to a series of panic attacks in the month of June. "I was losing my shit," she told THR. "I still can't get my mind to shut up and I don't sleep." To help matters, the actor went home to the Pacific Northwest, put her phone down, and visited family. She spent two weeks "hiking and skiing and doing what I truly love."
Up next — aside from Euphoria season three — Sweeney is set to produce and star in the HBO limited series The Player's Table, as well as star in Marvel's upcoming Spider-Man spin-off, Madame Web, alongside Dakota Johnson. In September, the actor will attend the 2022 Emmy Awards, where she is nominated for best-supporting actress in a drama series and in a limited series for her roles in Euphoria and The White Lotus, respectively.
More on hair:
Now, see Sydney Sweeney's skin-care routine:
Don't forget to follow Allure on Instagram and Twitter.