People on TikTok Swear Frothing Beauty Products Makes Them Better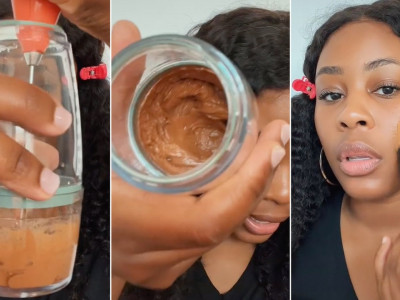 Some TikTok users should be pivoting to careers as coffee shop owners with the latest trend to reach the clock app. Well, that may be a bit of a stretch, but users are grabbing frothers — those tools baristas use to add foam to your coffee — to transform the consistency of their beauty products.
It started when Stephanie Valentine, known to her over 1.5 million and counting fans as Glamzilla, filmed herself doing what she calls "weird makeup science" by using a manual frother to transform her Dr. Jart Cicapair Tiger Grass Enzyme Foam Cleanser, which has a creamy consistency and thick lather, into a foam.
In the video, which she shared on July 26, she pulls out the plastic frother and adds water, a squirt of cleanser, and a dash of Dermalogica's Daily Microfoliant Exfoliator, a powder. After a few pumps, the cloudy liquid concoction turns into a white foam that she works into a rich lather on her face. "Oh my gosh, am I going to start frothing my skin care?" she asks while cleansing her face.
This content can also be viewed on the site it originates from.
Though the experiment ended up working well, Connecticut-based board-certified dermatologist Mona Gohara doesn't recommend trying it with every skin-care product. "I would not do it with active ingredients; it may destabilize them and make them completely ineffective," she explains. Active ingredients could include alpha- and beta-hydroxy acids, vitamin C, hyaluronic acid, retinol, niacinamide… that scratches out basically any product that's not a makeup remover or gentle facial cleanser.
Gohara doubts that the frothing is necessary, as foaming cleansers already exist, but she says that it does look fun and creative. However, she warns against using this concoction on dry or combination skin because it will suck the moisture out of the product. In general, she recommends foaming cleansers for oily skin types because those facial washes are on the dryer side (they contain something called surfactants, which do have the potential to dry out skin). The addition of the exfoliator would also dry out the skin.
What's more: cosmetic chemist Ginger King shares that frothing your face cleanser is just like lathering soap in your hands, just a bit faster and more elaborate. The pumping action from the frother helps create more foam because of those surfactants in the cleanser. It's nice to do if you're a fan of sudsy cleansers for the sensorial experience (and if your skin can handle it, of course).
After seeing Valentine's video, fellow TikToker Avonna Sunshine decided to froth foundation. In her video, she adds a few drops of Nars Soft Matte Complete Foundation to a cup of water before grabbing an electric frother to blend it all together. Once she's done, she displays the foamy foundation, which resembles a chocolate soft serve, before applying. As she blends it onto her skin, she notes that the texture feels light, cloudy, and "so interesting." It also had a lighter coverage than it normally would un-frothed.
This content can also be viewed on the site it originates from.
She couldn't show her cup while frothing, so she posted a second clip to show the change in texture and a side-by-side comparison with a sample of foundation that hadn't been whipped. That time around she used an entire bottle of Maybelline New York Matte & Poreless Foundation and a taller container. Once she pulled the frother out, the liquid foundation looked more like whipped coffee than makeup.
She says it "feels like applying water to your skin" as she blends out the foundation on half of her face. On the other half, she applies the liquid foundation straight from the bottle. She concludes that the side with the frothed foundation looked more natural and did not provide as much coverage. She also notes that she doesn't feel like she has anything on the side of her face with the frothed foundation (all to be expected, thanks to the addition of water).
This content can also be viewed on the site it originates from.
The biggest risk with using this technique is the potential for bacterial growth, King and makeup artist Lavonne Wood share. "When you introduce water to products, you increase the [chance of] bacteria contamination," King explains. Wood agrees and notes that you would need to use distilled water and froth in smaller amounts to prevent potential contamination.
And because you have to dilute the foundation with water, the product may not perform as intended or expected post-froth. Overall, King doesn't advise using this technique for foundation. Wood feels similarly. "Until Maybelline brings back Whipped Dram Mousse, I would leave the frother for my Nespresso latte," she says. All products featured on Allure are independently selected by our editors. However, when you buy something through our retail links, we may earn an affiliate commission.
By Kara Nesvig
By Jabeen Waheed
By Emily Tannenbaum
Read more stories about TikTok trends:
Now enjoy a yoga teacher's daily routine:
Don't forget to follow Allure on Instagram and Twitter.