Yes, It's Possible to Overcomplicate Your Skin-Care Routine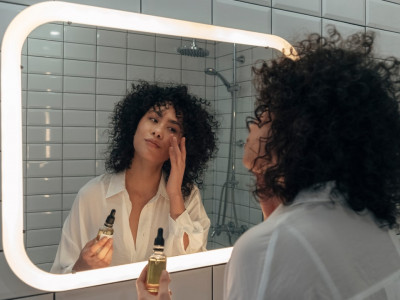 All products featured on Allure are independently selected by our editors. However, when you buy something through our retail links, we may earn an affiliate commission.
I never cared about my skin-care routine until I started interning at various fashion magazines in college. Every month, it seemed like a new, must-have product would hit the market and shortly thereafter make its way to our beauty closet. It was 2015, which meant #Skintok and #BeautyTok didn't exist yet.
My fellow staff members would rave about these products and write complimentary reviews of their findings to convince millions of readers to buy them. As a reader myself who had first-hand access to these beauty items, I found myself trying all of the free samples and buying anything that promised glowing skin and long-lasting wear.
I thought the skin-care market was oversaturated back then. But I didn't know what hit me when influencers began touting products on TikTok that go viral overnight. Instead of discovering a new "it" skin-care product every month, viewers are discovering a new one every week. Not to mention, there are so many celebrity beauty brands coming on the scene, too. At this point, are we just overcomplicating our routines?
New Jersey-based board-certified dermatologist Loren Franco, MD, says the potential to buy and use more products than you actually need can be attributed to the rise of social media for over a decade. "Everyone, from influencers to celebrities to your next-door neighbor, is promoting some sort of skin-care product," she explains. "The more you see and hear their 'testimonials,' the more you think you need it. Unrealistic claims lead to unrealistic expectations."
Recently, there's been a shift in the skin-care conversation on social media, with some influencers saying they've seen positive results from paring back their routines. With my fashion closet days behind me, I've also committed to taking a simpler approach to my routine and noticed my skin seems happier for it.
According to New York-based board-certified dermatologist Usma Syed, MD, 95 percent of the truly scientific tips you should know as a consumer can fit into one Twitter thread. "All Instagram/YouTube/TikTok skin-care education videos just repackage a few core principles with different dances/ brand names. Let me prove it," he tweeted in January.
Dr. Syed went on to list eight different rules which include the importance of using moisturizer, SPF, retinoids, and active ingredients. Additionally, he advised people not to use too many active ingredients at the same time — because less is more. As people try many different social-media-recommended products at once, over-exfoliation can be an issue. "AND THAT'S IT. Now you can unsubscribe from every skin-care TikTok/YouTube channel," he concluded.
In January, New York-based board-certified dermatologist Usma Syed, MD, tweeted "All Instagram/YouTube/TikTok skin-care education videos just repackage a few core principles with different dances/ brand names. Let me prove it." His thread, which outlined eight simple rules for creating an effective routine, went viral. Other dermatologists and skin specialists agree with Masyed's thinking — skin care doesn't need to be as complicated as social media makes it out to be. "Women talk to me about how they get overwhelmed with it all and seem to switch their skin care quite regularly. It genuinely does get confusing!" Julie Brackenbury, a cosmetic nurse tells Allure.
Especially with the rise of DIY skin-care hacks on TikTok, misleading information can cause skin issues abound. "Using too many active ingredients at once can irritate our skin by means of how they work. Many of the actives we use to improve skin texture, discoloration, and aging can cause irritation as a side effect," Dr. Franco explains. "Using one at a time is totally fine, but when all of your skin-care products (cleanser, serum, moisturizer, etc) have actives in them, your skin barrier could take a big hit."
The more irritating active ingredients you put on your skin, the more you could be disrupting your skin barrier, which can lead to irritation, redness, flaking, swelling, and burning. "The more ingredients you are using, the more likely you will encounter something you are extra sensitive or allergic to," Dr. Franco adds.
If a sponsored ad or new tutorial convinces you that you absolutely need a product, Dr. Franco suggests taking a step back and assessing your skin goals before you add to cart. "[Ask yourself] what are you trying to achieve," she says. "If it's anti-aging, the active you should focus on is retinol/retinoids. If it's hyperpigmentation and brightness, start with AHAs/BHAs and vitamin C. If it's all three, start with one at a time and add them in slowly so your skin can build up a tolerance." [Editor's note: Allure no longer uses "anti-aging" in its lexicon.]
When it comes to retinol products, Allure loves The Inkey List Retinol Serum and CeraVe Resurfacing Retinol Serum, two products that have won our Best of Beauty Award for working hard to plump skin on the cheap. Paula's Choice Skin Perfecting 25% AHA + 2% BHA Exfoliant Peel can help with hyperpigmentation and improve skin texture, too.
And of course, if you notice any redness or irritation, Dr. Franco says it's best to scale back on any new products. "Start with a basic regime of one or two actives and slowly add new actives as your skin can tolerate it," she explains. "I cap the actives at three with most patients, unless they are extremely motivated. They almost always include a retinoid at night and vitamin C in the AM, and can slowly add in AHAs/BHAs as tolerated."
Not only can overcomplicating your skin-care routine cause skin issues, but it can get expensive and time-consuming too. When you stick to basic skin-care rules and block out the noise from TikTok, your skin-care routine won't feel like a never-ending game of Tetris. Remember: you do not need that product.
Read more about skin care:
And now, watch Martha Stewart's 10-minute beauty routine:
Don't forget to follow Allure on Instagram and Twitter.