These Are the Best New Spring Fragrances of 2023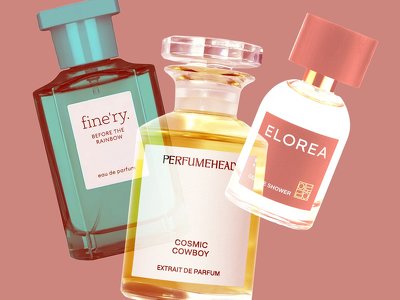 All products featured on Allure are independently selected by our editors. However, when you buy something through our retail links, we may earn an affiliate commission.
It can often feel like scents act as instant mood-lifters, and with so much turmoil woven into everyday life, we find ourselves relying on them more than ever to comfort us or help take us back to a specific memory or place. And as time passes, they can help us celebrate seasonal shifts, like the transition from an often gloomy winter to the vibrant, hopeful feeling that comes with spring. Luckily, there are plenty of beautiful spring fragrances — and so many new ones — available to help us get in the mood for and embrace the season.
We sometimes feel like Goldilocks when it comes to picking a new signature scent. One might be too fruity. One might not be musky enough. One might have an overwhelming mix of notes you've never heard before. But in the end, there is always one that will fit you just right. In fact, that perfect scent might be something you already know and love, just with a slight twist, like Tom Ford Electric Cherry or Ellis Brookyn Florist.
And because we're so ready for fresh starts whenever the opportunity presents itself, there are plenty of completely new fragrances to help us feel like spring is truly the time for renewal it always promises to be. Scents like Ourside Dusk and Perfumehead Cosmic Cowboy offer an opportunity to revisit the past or reimagine who you are.
To help you narrow down some of your options and make it less overwhelming, we've pulled the best perfumes of the spring so far, including picks from new brands like Elorea, Kayali, and Diptyque. You can thank us later.
There's technically no need to reinvent the wheel, but isn't it fun when someone does? Ellis Brooklyn's Florist is a spring floral (groundbreaking, we know) featuring some classic blooming notes — tuberose, gardenia, and jasmine — that are elevated by bright citrus punches and grounded by an earthy sandalwood and cedar base. Honeysuckle fans, this eau de parfum's for you.
If you like smelling even sweeter than your favorite dessert, look no further than Kayali's Yum Pistachio Gelato. The ingredient list is chock-full of gourmand fragrance staples like rum, cardamom, and tonka bean, plus some unique olfactory delicacies like ice cream, cotton candy, and whipped cream. After a spritz of this decadent and creamy perfume, the only thing that'll smell better than the cake on its way to the table is you.
Ourside is a Bronx-based, Black-owned fragrance brand whose nostalgic, midnight jasmine-inspired scents immediately caught our attention here at Allure. Dusk Eau de Parfum's fresh grapefruit, fig, and bergamot top notes come first, then it settles into its earthy musk, cedarwood, and patchouli base. If staring at the stars while laying on a bed of dewy grass could be bottled and sold, it would be Dusk.
Henry Rose's Windows Down Candle is the best possible version of what a springtime breeze could smell like. Top notes include refreshing scents neroli, bergamot, and earl gray tea while base notes of moss and woods keep the fragrance grounded and complex. Henry Rose may be Michelle Pfeiffer's brand, but this candle feels like an Italian countryside export.
Named after its rainbow of ingredients, D.S. & Durga's Steamed Rainbow is a muggy symphony of herbaceous and citrusy ingredients that manages to channel the exact olfactory sensation of stepping outside after a steamy summer storm. "You might expect, as I did, for a scent called Steamed Rainbow to smell like straight-up sugar, but it actually captures the very essence of fresh water," says Allure news editor Nicola Dall'Asen. "Orange, cedar, grass, violet, vetiver, and vapors combine to create what truly does feel and smell like the moment the morning dew starts to evaporate in the rising sunlight."
If the feeling of driving in a convertible through neon city lights at night could be distilled into a scent, it would absolutely be Perfumehead's Cosmic Cowboy. This extrait de parfum is a highly-concentrated warm amber fragrance with sexy pops of spicy cinnamon, tobacco, and whiskey. Like a full night of debauchery but only the glamorous parts, it's the perfect get-the-hell-out-and-dance scent.
"I'm not a bride, nor am I soon to be, but take it from me, Parfums de Marly's newest scent Valaya is the perfect wedding day perfume," says Allure associate beauty editor Annie Blay. A marriage of white florals and citrus with a hint of woody base notes, this powdery, feminine fragrance, "smells like fresh, expensive air," Blay adds.
Sol de Janeiro's Rio Radiance Perfume Mist is a sweet floral fragrance that brings the heat even if the weather outside hasn't gotten the memo. Sun-soaked tuberose, coconut milk, and vanilla are the standout ingredients here.
Tom Ford's Lost Cherry has been around and loved for quite some time, but the scent's new iteration, Electric Cherry, is the exact jolt of energy this gourmand fragrance needed. It contains a playful blend of Morello cherry, zingy ginger, warm musk, and a hint of jasmine. "This fragrance screams fresh fruit on a summer day or a simple, sweet cherry pie," says Allure senior commerce writer Angela Trakoshis. "Every time I wear it, I just know someone will compliment me, and who doesn't love compliments?"
By Marci Robin
By Aliza Kelly
By Gabi Thorne
You don't have to belong to a country club to douse your senses with the smell of fresh tennis balls and tropical sunscreen. Vacation partnered with tennis brand Prince to create the Ball Boy Candle. Vacation is known for its evocative, location-based fragrance collection, so this candle features some tennis-adjacent unconventional notes like fresh tennis balls and clean cotton sweatbands. In practice though, it's a fresh, slightly sweet manicured outdoors scent.
As someone who recently turned 30, Allure beauty and wellness editor Taylore Glynne thought her peach perfume days were behind her until she tried The Maker's Wild Eau de Parfum. "[The brand] found a way to make the note smell definitively adult," Glynne says. "Inspired by the Gardener Suite at the brand's namesake hotel in upstate New York, the formula blends tuberose absolute and sandalwood with the stone fruit for a more mature — and flat-out intoxicating — spring scent."
Clocking in under $50, Fine'ry's Before the Rainbow Fragrance impressed Allure associate manager for special products Talia Gutierrez scent-wise and price-wise. "The modern, teal glass bottle encapsulates the calming and invigorating smell after a rainstorm," says Gutierrez. "With just three pumps, the fragrance's top notes of tree moss, bergamot, and salty air transport me to a tropical rainstorm in Hawaii for just $34."
If you've ever wanted to channel the intoxicating aroma of a used bookstore and wear it on your skin, run to the (digital) perfumery ASAP. Diptyque's L'Eau Papier Eau de Toilette is a fairly simple fragrance — a combination of white musk, mimosa flower, and sesame — but this adaptable fragrance transforms once it dries down and smells a little bit different on everyone. Think ink, well-loved pages, and worn-in reading chairs, but it's all mystery and not at all musty.
Top off your spring cleaning by lighting Le Labo's Ambroxyde 17 candle and basking in the hard-to-pin-down scent. "It enhances the smell of everything," says commerce producer Sarah Hoffmann. "Clean sheets smell cleaner, my apartment's plain old wood floors smell like a historical library, and the air gets a slight marine twinge to it even though I don't live near the water."
By Marci Robin
By Aliza Kelly
By Gabi Thorne
Elorea's Gentle Shower was designed to channel moments of peace brought on by a surprise rain. Earthy base notes are brightened up by zingy ginger and herbaceous leaves. It's a freshly watered herb garden contained in a bottle.
More on fragrance:
Now, watch a makeup expert guess cheap vs expensive eye shadow:
Don't forget to follow Allure on Instagram, Twitter, and TikTok, or subscribe to our newsletter to stay up to date on all things beauty.