Hailey Bieber Just Got a Bob, So Prepare for Everyone You Know to Get a Bob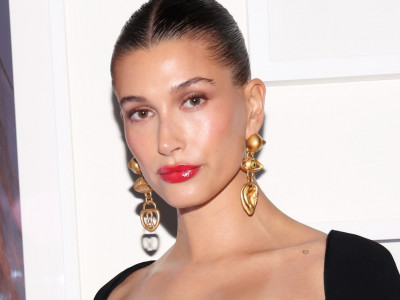 As expected, TikTok was the first place o see Hailey Bieber's new just-shy-of-the-jawline chop. Her reveal of the look started on January 21 with what we assumed to be a regular old outfit-of-the-day video on her TikTok feed. The caption simply read "oops," as the camera shifted to a close-up view of Bieber's shorter hair. She then strolled around New York City on January 22 with her bob haircut flowing in the Manhattan wind.
We have found endless inspiration in Bieber — like with the epic glazed donut manicure craze of 2022 — and she took inspiration from Margot Tenenbaum for this look, as Bieber revealed via Instagram Stories. She posted a mirror selfie with the caption, "Margot Tenenbaum for the foreseeable future," referencing Wes Anderson's 2001 character portrayed by Gwyneth Paltrow in the film, The Royal Tenenbaums.
The model's haircut didn't initiate a change in her signature street style, though. Bieber was dressed in a pleated miniskirt, a collared V-neck sweater à la Chandler Bing, and a black oversize trench coat with hard-to-miss statement sleeves, all pairing marvelously with her angular chop as she roamed around New York City. A classic Hailey look.
What makes Bieber's revival of the bob so distinct this time around? Maybe it's because this is definitely one of the shortest haircuts she's ever had or because we're reminded of the last time Bieber wore her hair this short in a pastel pink color for her Allure cover shoot in May 2022.
All around, Bieber's commitment to short hair has me hitting the save button in my Instagram folder of hair inspiration to show my stylist. And, well, her preppy style and moody shades are quite the accents to go with it.
More on the beauty news that's trending right now:
By Aliza Kelly
By Kara Nesvig
By Kara Nesvig
Now, watch ITZY break down their most iconic music videos:
Don't forget to follow Allure on Instagram and Twitter.