Karol G Went Full Ariel With Her New Red Hair Color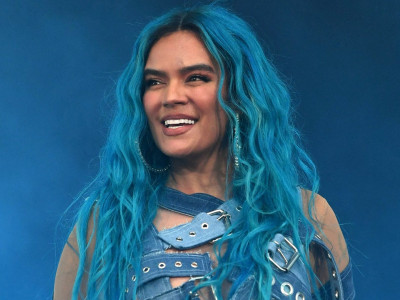 Karol G, is that you? Or is it Ariel, the little mermaid? We honestly can't tell the difference with this cherry-red hair color!
The musician, who was known for her signature bright aqua-blue hair color, decided to change things up in a big way with her new look, debuting a vibrant shade of crimson after teasing that a switch-up was in the works in late July.
According to Karol's post on Instagram, she had to practice patience before debuting the scarlet hair to fans and followers, as the color was top secret at first. "Two weeks of being in love with seeing myself in the mirror like this and not being able to show it," she wrote in Spanish. In the video, Karol makes viewers wait for the big reveal as she talks about the transformation, videoing the ceiling before counting down to her rojo makeover. After a quick "three, two, one," she shows off the color. Her hair is styled in loose waves and looks super bright and shiny — just like her smile.
This content can also be viewed on the site it originates from.
Karol loves her new look and is hoping fans do too. "When you see me in the streets, say: 'EaAaaa Maria Bebeee that red hair looks gorgeous on you.'" She wrote in her caption. We have a feeling that won't be a problem, given how glamorous and happy she looks with the traffic-stopping red hair. Karol even took the Little Mermaid comparison one step further and changed her Instagram pic to one of Ariel, just in case you weren't certain of the inspiration.
Karol previously talked about her blue hair's importance, not just for herself but for her fans. She had "complicated" feelings about sticking with the shade, in part because it so quickly became part of her signature look. "When people think of Karol G, [they] think of the blue hair and the heart tattoo," she told Allure in March 2022. "I just went to Latin America and I'm going to do my tour in Europe, so I feel like people want to buy their blue wig. So how do you take away the opportunity? People buy a ticket for a tour like that and I get there with a different color hair? I don't know.… You see that it's complicated?"
The blue hair was iconic for sure, but the red means a new era of Karol G is upon us and we truly couldn't be more excited.
More celebs with bright red hair:
Now, learn more about the history of hair dye:
Don't forget to follow Allure on Instagram and Twitter.