Ukrainian rescuer sets national record by running 62.7 km in full gear in memory of war-lost colleagues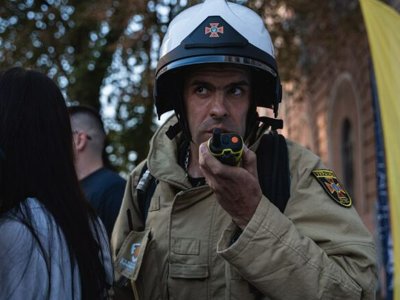 What is the problem?
Since the beginning of the large-scale war, 78 employees of the State Emergency Service were killed, and 280 were injured due to shelling by the Russians during the liquidation of the consequences of missile strikes.
It is worth noting that international conventions protect rescuers, as they do not conduct combat operations but go to save people and provide aid.
The Russians ignore international conventions.
During the 500 days of the war, the State Emergency Service made 104,000 trips and rescued 4,000 people.
What is the solution?
Rescuer Volodymyr Skovorodka ran a 50-kilometer distance in the capital in complete equipment, weighing more than 25 kg, and set a new Ukrainian record. After the record, the rescuer ran another 12.7 km.
Photo: Ministry of Internal Affairs of Ukraine
How does it work?
It is noted that overcoming such a distance should demonstrate the strength and endurance of Ukrainian rescuers, who are the first to come to the rescue.
The running route was designed to draw people's attention to the places where the Russian army struck the capital of Ukraine.
The race is dedicated to the memory of the fallen rescuers and civilians who became victims of Russian bombings.
A charity fundraiser for the needs of rescuers of the State Emergency Service of Ukraine was going on during the race.
Photo: Ministry of Internal Affairs of Ukraine
For reference:
On September 18, hearings will begin at the UN International Court of Justice in The Hague regarding Ukraine's lawsuit against Russia, which refers to the violation of the 1948 Convention on the Prevention and Punishment of the Crime of Genocide.
It was also reported that September 17 was celebrated as Rescuer's Day in Ukraine.