WTC final: Is Ajinkya Rahane ready to relaunch his Test career?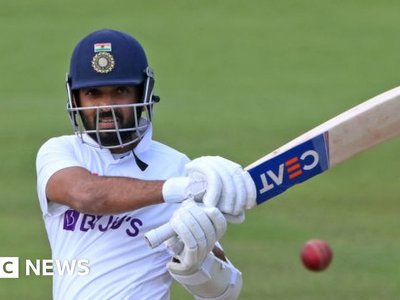 He led India to a historic Test series win in Australia in 2021 and was dropped from the side in 2022. This year, he finds himself in the squad for the World Test Championship final.
It is difficult to be Ajinkya Rahane.
The Indian batter would probably not have been recalled if Shreyas Iyer - who has already proven his credentials as a Test no. 5 - had not been injured. Rahane, who will be returning to the side after 18 months, is likely to be under immense pressure to prove a point because there won't be another chance.
After India's series defeat in South Africa in 2022, Rahane was dropped from the Test side. At The Oval on 7 June, the veteran of 82 Tests will want to take a fresh guard at the crease when he walks out to bat.
"Coming back after 18-19 months, whatever has happened, good or bad, I don't want to think about my past. I just want to start afresh and keep doing whatever I have been doing," Rahane told BCCI.TV.
"I want to bat with the same mindset and show the same intent that I showed before coming here in the Indian Premier League (IPL) and Ranji Trophy. I would not like to think about format, whether it is T20 or Tests. The way I am batting now, I don't want to complicate things and the more I keep it simple, the better it is for me," he explained.
Many would have thought that Rahane's time was up. But he went back to domestic cricket and finished as Mumbai's highest run-getter in the Ranji Trophy 2022-23 season with 634 runs from seven matches at an average of 57.63.
Moreover, this IPL edition made the difference for Rahane when he scored 61 off 27 in Chennai Super Kings' (CSK) match against Mumbai Indians (MI). That knock and others that followed suit made enough buzz to get him picked by the selectors for the WTC final against Australia.
CSK's coach, Stephen Fleming, says Rahane was not in their "initial thoughts" but his form and attacking stroke play forced the team management to think otherwise. He became an integral part of the top-order and had a big role to play in CSK winning the title for the fifth time.
Rahane finished IPL 2023 with 326 runs off 14 matches at a strike-rate of 172.48.
So, what really changed for Rahane? "We got rid of the tag of being the guy you bat around or bat through. I think that maybe hung over his head a little bit too much and didn't allow him to be the player that he can be," Fleming told the media.
Fleming is probably right. Batting at No.5, Rahane had the extra responsibility of shouldering an innings and never got to bat with freedom. His hundreds at Lord's (2014) and Melbourne (2020) would be the best examples of great batsmanship under tough conditions.
Opinions were divided when Rahane got a call-up for the WTC final, and leading up to the Test, questions are still being raised over whether Rahane should be playing ahead of another in-form batter, Suryakumar Yadav. However, the experience of playing in English conditions could tilt the scale in Rahane's favour.
And with the Australian bowling line-up comprising of Pat Cummins, Mitchell Starc and the wily Nathan Lyon, a batter like Rahane can bring stability to the middle-order.
Rahane has an unassuming personality, but when faced with a challenge, a calm aggression surfaces which comes through not in words but actions.
In an interview with Star Sports, Rahane - who earned a black belt in judo at the age of 14 - recalled how in one of his first competitive fights, when the opponent had him on the backfoot, he chose to counter-attack instead of being on guard - a tactic that brought him victory.
One got to see Rahane's fighting spirit during India's tour Down Under in 2020-21.
India had a forgettable first Test at Adelaide where they were shot out for 36 in the second innings, their lowest ever score in the longer format. India captain Virat Kohli had flown back home and a couple of key players were nursing injuries. With three Tests remaining, winning the series seemed impossible.
What transpired next is now a glorious chapter in cricketing history, with India determined to fight back and Australia determined to not to give an inch.
India needed someone to lead from the front and put them back in the reckoning. Rahane did exactly this by slamming a brilliant century at Melbourne in overcast conditions, with Aussie seamers steaming in. This turned the tide for India, who went on to clinch the series against all odds.
After achieving such heights of success, it can be frustrating to start from the beginning. The opportunity to play the WTC final is huge for Rahane, akin to making a debut. The key obstacle for the batter will be handling the pressure of expectations, which can be overwhelming when making a comeback in a big game.
But there have been players who have had a second coming and have gone on to have long careers. The question is, can Rahane make it count?
BBC News India is now on YouTube. Click here to subscribe and watch our documentaries, explainers and features.