Jason Derulo: My 'most unsexy' business investment in a car wash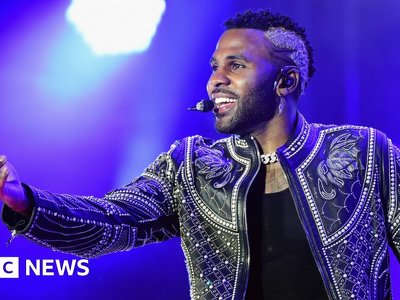 Popstar Jason Derulo is famous for his hit songs and TikTok videos, but these days he feels like he is a businessman as much as a musician.
The Savage Love singer says his least "sexy" investment is his most recent - a US car wash chain.
"I took a chance on it because its membership model reminded me of what Netflix and Uber did," Derulo told the BBC.
Rocket Car Wash offers a monthly subscription for unlimited car washes.
But it is just one of many business ventures he is putting his money into.
"Usually I'd describe myself as an entertainer, but I feel like that has changed," he told BBC World Service podcast Business Daily. "I don't think I could only say entertainer anymore. It's business nowadays."
Derulo says he invests in businesses he is familiar with, which have included the fitness firm Rumble Boxing, the high end restaurant Catch LA, and he fronts 'Project Icon', a reality TV show on the BBC.
Of course, he is not the first musician to venture into the business world.
Dr Dre, American rapper and record producer, founded his electronics brand in 2006 and Beats became a byword for fashionable headphones.
American country singer-songwriter, Dolly Parton, has a more unusual side business: theme parks, with the complex in her hometown, renamed Dollywood, bringing in hundreds of millions of dollars a year.
Many others have put their money into food, drink and entertainment enterprises.
Alice Enders, head of research at Enders Analysis and Media, says, since musicians careers can be short-lived, it is a smart move to branch out.
"Diversification is the best thing a musician can do," she says. "If you start earning less from music, you have something to fall back on."
This has already proved true for Derulo. In 2019 he hit a career crossroads when he was released from his record company, Warner Bros.
Stuck for what to do, he decided to give TikTok a go. Within months, he was one of the most popular creators on the short-form video app, with more than 50 million followers.
While he was still earning money through making music, it was in a completely new way.
Before social media, musicians relied on record labels to promote and circulate their music. But with TikTok's "trending sounds", artists can use the app to attract fans directly.
A song that goes viral on TikTok gains a higher profile within the app as a result, being used in more videos, and is often promoted on TikTok's main video site.
TikTok exploded in popularity during the pandemic, when musicians had to stop gigging altogether, and fans spent more time on screens.
Some artists, like UK singer PinkPantheress, used the platform to kickstart their careers and attract the interest of a record label. But for Derulo it was a way to relaunch his career in a new direction.
"I feel like TikTok started it off for me, it broke me out of a box that I was in," Derulo says.
But TikTok may not be around for ever. Social media fashions change, and in recent months, there have been moves in the US, Europe and Canada to restrict access to TikTok, citing security threats from the Chinese-owned company. India has already banned the app.
In March, the US government said that ByteDance, the Chinese company that owns TikTok, should sell the app or face a possible total ban there too.
Derulo says he is not worried about that eventuality, though.
"I would hate for it to happen but, honestly, I stay on my toes. I'm prepared for anything. If it goes away, I think there are a lot of apps out there."
That's also the attitude he recommends for anyone wishing to follow in his footsteps - diversify.
"If you're making one kind of content all the time, people might get tired of it. I feel like it's important to give more of yourself.
"I think going for one specific thing, you're kind of selling yourself short. We are all multi-dimensional, we all have a lot to offer."
You can hear the full interview with Jason Derulo on Business Daily on BBC Sounds.
Additional reporting by Carmel O'Grady and Ez Roberts