Israel returns body of Egyptian policeman who killed Israeli soldiers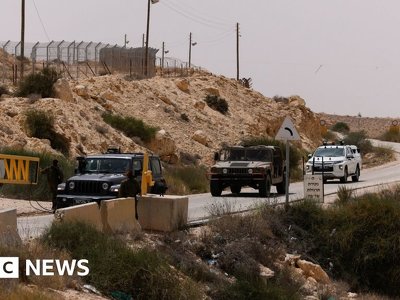 Israel has returned to Egypt the body of an Egyptian policeman who shot dead three Israeli soldiers near the border between the two countries on Saturday.
Media reports identified the policeman as Mohammed Salah, 22.
Egypt said after the incident that he crossed into Israel while chasing drug smugglers, leading to an exchange of fire with the Israeli soldiers.
But Israel's prime minister said that it was a terrorist attack and demanded a thorough joint investigation.
A relative and a comrade of Salah told the BBC that he was not an extremist.
According to the Israeli military, two Israeli soldiers - Staff Sgt Uri Iluz, 20, and Sgt Lia Ben-Nun, 19 - posted in a remote spot along the border were shot dead early on Saturday morning. Their bodies were discovered after a senior officer was unable to contact them by radio.
After a search operation, the attacker was encircled and there was a shootout. The third soldier - Staff Sgt Ohad Dahan, 20 - was killed along with the attacker, who the Israeli military said was an Egyptian policeman.
Prime Minister Benjamin Netanyahu told a cabinet meeting on Sunday: "Israel relayed a clear message to the Egyptian government. We expect that the joint investigation will be exhaustive and thorough."
"We will refresh procedures and methods of operations and also the measures to reduce to a minimum the smuggling and to ensure tragic terrorist attacks like this do not happen again."
Israeli media cited a preliminary investigation as saying the policeman entered Israel by using a closed emergency gate in the border fence, which was a few hundred metres away from Staff Sgt Iluz and Sgt Ben-Nun's guard post.
After the policeman was killed, Israeli soldiers found that he was carrying six magazines for his rifle, as well as two combat knives and a Quran, they added.
The reports also said Egyptian officials had told their Israeli counterparts in meetings that the attacker was a "rogue" officer who had acted on his own after becoming radicalised.
Egyptian authorities have not commented on the reports or confirmed the policeman's identity, but a relative of Mohammed Salah and a member of his unit told BBC News Arabic on Monday that members of this family and friends were being detained for questioning by investigators.
The relative denied that Salah had been radicalised and suggested that he might have wanted to avenge the death of a comrade.
During a period of leave last month, Salah had expressed his anger about "the silence over the killing of one of his military friends by Israeli soldiers during his military service at the border", they said. He had also complained about the military rejecting a request for a medical exemption, they added.
It is not known what alleged incident the relative was referring to.