Poland judicial reforms violate EU law, top court says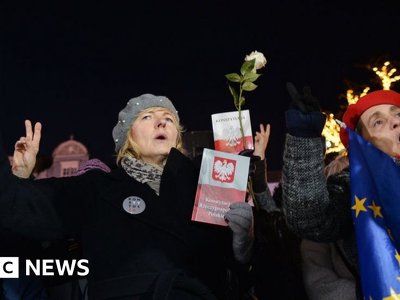 A series of judicial reforms in Poland violated EU law, the European Union's highest court has ruled.
The European Court of Justice (ECJ) criticised several aspects of the 2019 reforms, including the formation of a disciplinary chamber for judges.
Judges said the rule of law was part of the EU's "very identity" and risked being undermined by the laws.
In response to the ruling, Polish Justice Minister Zbigniew Ziobro said the ECJ was "corrupt".
The decision, he said, "was not written by judges but politicians because it constitutes a clear violation of European treaties".
On Monday the ECJ reaffirmed that a disciplinary chamber for judges set up under the reforms was not sufficiently impartial.
The Luxembourg-based court also criticised Poland's decision to publicise judges' memberships of charities or political parties, which it said violated their privacy and was "liable to expose judges to risks of undue stigmatisation".
"The Polish justice reform of December 2019 infringes EU law," the court said on Monday. It also reaffirmed the principle that individual states could not ignore its rulings.
In 2021 the European Commission, the EU's executive, imposed daily fines if 1m euros a day on Poland for its failure to suspend the supreme court's new disciplinary chamber.
Critics said it was being used to punish judges who have been critical of the government's changes to the judiciary.
The European Commission referred Poland to the court earlier this year.
Monday's move means that Poland could face further EU fines if it refuses to amend elements of its judicial reforms.
The ruling comes a day after protest marches were held in Warsaw and other cities.
The opposition says democratic norms, including the rule of law, are being eroded by the right-wing government.
And last week, the EU threatened to take action against Poland, after MPs approved a new commission which could bar people from public office for links to Russia.