Andriy Yermak discussed topical issues with representatives of Ukrainian and international media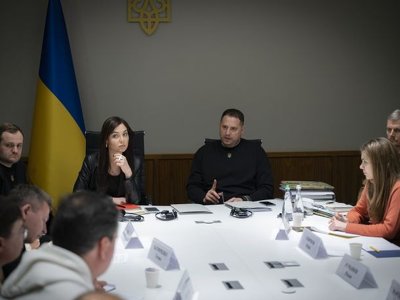 Head of the Office of the President Andriy Yermak met with representatives of Ukrainian and international media. Roman Mashovets and Oleksiy Kuleba, Deputy Heads of the Office of the President, also took part in the conversation.
At the meeting, a number of topical issues of the Ukrainian agenda were discussed.
In particular, emphasis was placed on strengthening the military support of Ukraine by partners and allies and enlargement of the defense capabilities of our country. The parties also touched upon the situation at the front and the provision of Ukrainian servicemen.
The course of formation of the "Offensive Guard" in the system of the Ministry of Internal Affairs and new brigades of the Armed Forces, mobilization, preparation of the Ukrainian army for a counteroffensive were discussed.
Particular attention was paid to the international direction, in particular to the political, economic and energy cooperation of Ukraine with partners. In this context, the participants touched upon the issue of cooperation with the states of the G7 and the Global South, in particular with those that are still neutral regarding the Russian-Ukrainian war.
The participants of the meeting also paid attention to the topic of continuation and strengthening of the sanctions policy against the Russian Federation, the issue of confiscation of Russian assets in favor of Ukraine, the return home of deported Ukrainian children from Russia, the prolongation of the grain agreement and a number of other initiatives of our country aimed at ensuring food security in the world.
In addition, the issue of the work of the Congress of Regional and Local Authorities under the President of Ukraine was discussed during the meeting.
Read also: "Hungary is the most valuable agent of Russia in the EU": what is behind the inclusion of the country in the list of unfriendly countries