The ferry in the Netherlands hosting refugees and migrants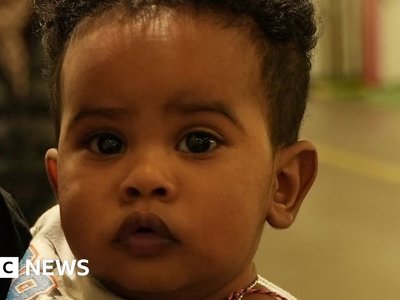 After passing tight security and passing up the clanking gangway we meet our first passenger on the ferry that's going nowhere.
Salher is just six month old. The smile that erupts across his face belies the hardship he and his 19-year-old mother Aster have endured.
She explains that her son was born in Rwanda after she travelled there from Eritrea, after fleeing persecution.
"It's fine here. No problem. I want to learn Dutch and then I want to work."
We're told the Silja Europa is one of the biggest passenger ferries in the world, able to carry up to 3,000 travellers.
But for the past six months, it hasn't been taking people from the Estonian capital Tallinn to the Finnish capital Helsinki - its normal route.
It's been a floating but stationary home to 900 asylum seekers and migrants at this dock 20km (12 miles) outside Amsterdam.
With the main Dutch reception centre near the German border overflowing and heavily criticised for poor conditions, the Netherlands government has been trying something new. The UK is now exploring the same option.
"I like it here," says Zara, who tells us she fled her home in Chad after her first husband tried to kill her.
"In other camps we had to share a room with four or five people; it's not easy to live like that. Here, we have our own room. Conditions are much better here on the boat."
Sheza is one of seven women who has welcomed us into a corner they have commandeered and we sit on the floor and talk.
Their home countries are varied - among them Syria, Pakistan and Turkey - but they all say they have been victims of violence or religious persecution.
"The Dutch have done very well, they look after us even though there are many of us in one place. It is safe, clean and comfortable, well organised.
"Food is very different from what we know, it's a different culture."
When the ferry first docked six months ago, hundreds of locals expressed anger amid fears that jobs would be taken and that local services like the doctors' surgery would be overrun.
The part of the government which is running this scheme, the Central Agency for the Reception of Asylum Seekers (COA), took on board accusations that migrants would be living a life of luxury.
As we're guided around the boat, we see that six of the seven restaurants are closed off. The sauna and swimming pool are shuttered, and the casino and theatre are out-of-bounds.
The conference room, decked out with comfortable-looking red felt seats, is now used to teach Dutch lessons, as well as for seminars on human rights and discussions about gender equality.
Anything that may be construed as luxurious has been sealed off.
But this is no cheap option.
The Dutch government refuses to say how much it costs, but it's understood to be millions of euros every day.
We're told that Home Office officials from the UK visited three weeks ago to see for themselves what is happening. The official UK government position is that it is still "exploring the possibility" of using ships to house migrants and asylum seekers arriving in Britain.
I ask our guide Ronald Smallenberg from the COA what he would say to his UK counterparts in light of this Dutch experiment.
"It is indeed an expensive option. But it works. It works for the people, the residents on the ship, it works for the environment and it's a short cut solution for a serious problem."
Most of the people we spoke to as made our way round the ferry said they were grateful they are in a place which is so clean and comfortable.
Anas, a Syrian decorator from Aleppo, said he was eternally grateful to the Dutch.
But it's a not a universal feeling.
"It's very claustrophobic," says one mother who asked not to be named. "I worry about the impact it's having on us of being in here. I miss the fresh air and being able to open our windows."
The residents are able to leave the ferry but doctors and nurses come to them if needed. This approach seems to have soothed some of that initial anger in the nearby town, specifically over fears migrants would overwhelm local services.
As we step back on dry land we meet Gerry, a retired bus driver, walking her dog.
"Many people think our country is being overrun with immigrants. I don't share that view, but I do appreciate that it's a massive problem."
A massive problem which many European countries are grappling with, as a legacy of the Syrian war and most recently Russia's full-scale invasion of Ukraine.
There are no Ukrainian families aboard the Silja Europa. We're told this is because they are given a sort of protected status and priority by the local authorities. They are able to work immediately, whereas the other new arrivals must wait six months.
The Dutch claim the use of the ship has been a success, but they are adamant it's not a lasting solution - and so everyone on board will be taken ashore within three months.
But where they will be taken, the authorities don't know.