Trump and Stormy Daniels cash in on merchandise after indictment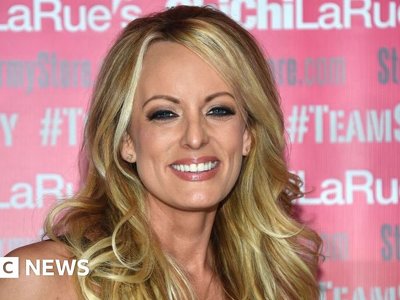 Former President Donald Trump and porn star Stormy Daniels have spent years battling in court. Now, they're selling duelling T-shirts.
A Manhattan grand jury voted on Thursday to indict Mr Trump in connection with a $130,000 (£105,000) hush money payment to Ms Daniels.
She alleges the two had an affair in 2006. Mr Trump has acknowledged the pay-out but denied they had sex.
His campaign sent a fundraising email soon after the charges were reported.
"This Witch Hunt will BACKFIRE MASSIVELY," he said in the email. "With your support, we will write the next great chapter of American history - and 2024 will forever go down as the year we saved our Republic."
The message asked people for money, offering a T-shirt with the words "I stand with Trump" for donations of $47 (£38) or more, which his campaign team claimed were "flying off shelves".
The Trump campaign says it raised more than $4m in the first 24 hours after news of the indictment broke.
But the case has brought a windfall for Ms Daniels, too.
In a tweet on Thursday after charges were announced, Ms Daniels - whose real name is Stephanie Clifford - said orders for "#Teamstormy merch/authograph[s]" were "pouring in".
"Thank you to everyone for your support and love!" she wrote.
Her website features a range of merchandise, including $20 T-shirts with the words "#TEAMSTORMY", signed posters of herself posing in lingerie, and a $30 dog chew toy that looks like Mr Trump. .
Her tweet was liked more than 94,000 times, while dozens of users replied with thank-you messages.
The porn star has over a million followers on Twitter, as well as a Facebook fan club page with more than 2,000 members, many of them ardent critics of Mr Trump.
In a live stream on Wednesday night on OnlyFans, a subscription-based website known for its adult content, Ms Daniels defended herself from criticism that she was trying to profit off the affair, according to the Independent.
"Everybody that has a business sells merch," she said, pointing out Mr Trump was similarly using the case to pull in funds.
"That's actually - I can't believe I'm about to say this - kind of brilliant," she said. "Why is it OK for him and it's not OK for me?"
But Ms Daniels and Mr Trump aren't the only ones cashing in.
Outside the former president's Florida estate, Mar-a-Lago, on Friday, merchandise vendor Ronald Solomon told Reuters news agency that sales of Trump-themed hats and T-shirts had soared.
The money-spinning is a reminder of 1920s US President Calvin Coolidge's adage: "After all, the chief business of the American people is business."