Energy Efficiency Fund, Kyiv region authorities to conduct thermal modernization of 150 multi-story buildings in 2023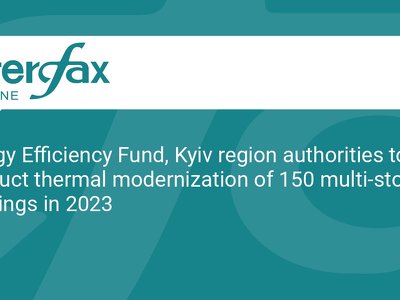 The Energy Efficiency Fund and Kyiv Regional Military Administration have signed a memorandum of cooperation providing for joint financing of work on the restoration and thermal modernization of apartment buildings throughout Kyiv region, the press service of the Energy Efficiency Fund has reported.
According to a press release, as part of the initiative, 150 high-rise buildings are planned to be restored in 2023.
The head of the Energy Efficiency Fund, Yehor Fareniuk, recalled that thanks to international donors, it was possible to quickly launch the VіdnovyDIM program.
"The EU has provided EUR 5 million for its pilot stage and plans to provide another EUR 20 million in the future. The memorandum with Kyiv Regional Military Administration is an important step that will make it possible to implement this initiative even more effectively. Indeed, today, for one object of restoration, homeowner associations can receive up to UAH 7.2 million. Unfortunately, due to Russian strikes, some houses have been significantly damaged and need large funds. Kyiv Regional Military Administration will be able to finance such projects," Fareniuk said.
He recalled that only those objects that are not emergency, which supporting structures are not damaged, can apply for grants from the VіdnovyDIM program.
"It's very important for homeowner associations to help finance the repair of such structures, after which they will be able to receive a grant from the Fund. The VіdnovyDIM program does not finance the costs of preparing design estimates, defective acts, examination, and technical supervision. And here homeowner associations also need support. We are very grateful for such cooperation – together we will help Ukrainians return to their homes as soon as possible," the head of the Energy Efficiency Fund added.
Currently, Kyiv Regional Military Administration has a Program to Support the Associations of Co-owners of Apartment Buildings and Other Residential Buildings Damaged as a Result of Hostilities in Kyiv Region, with the introduction of energy-efficient measures for 2023-2024. It is within the framework of this project that Kyiv Regional Military Administration will finance works that cannot be carried out under the VіdnovyDIM program or for which there were not enough funds.
The Energy Efficiency Fund has already received more than 70 applications from homeowner associations to participate in the VіdnovyDIM program for more than UAH 150 million, of which 34 applications are from Kyiv region.