Move Over, Glazed Donut Nails — Hailey Bieber Is All About the Mismatched Manicure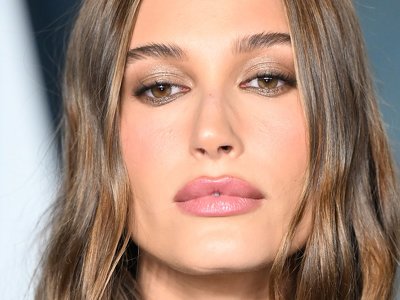 When Hailey Bieber changes up her manicure, we pay close attention. After her signature glazed donut nails went mega viral many times over in a few different iterations, including chocolate and strawberry, the model's nails became trendsetters in their own right. We've seen her try pearly girly nails, glow in the dark nails and now, a fun and funky mismatched manicure that incorporates polka dots, tortoise texture and neon colors.
Bieber gave fans a peek at her latest nail art on Instagram Stories, treating us to a birds-eye view of both hands given each nail has an entirely different design. On her left hand, we see a white dot French tip on her pinky, a swirl of deep purple and yellow on her ring finger and a mix of purple and yellow on her middle and pointer fingers, with more dots on her thumb. On the right hand, things really get creative; the model and Rhode founder sports neon green dots on her thumb, a bright yellow shade with a pink dot at the tip on her pointer finger and tortoise-esque textures in hues of deep magenta, cornflower blue and black on her middle and ring fingers. On her right hand pinky, Bieber mimics the design of her left hand but with magenta dots in lieu of white.
How did Bieber dream up this manicure and choose these exact colors? She didn't share any details in her post, nor did she tag the artist behind this eye-catching creation, but rest assured I'll be examining every single miniscule detail of each nail before I take it to my next salon appointment. Could this be a sign that the era of the chrome-on-everything manicure is on the way out in favor of more abstract designs, or was Bieber just looking to change up her routine for the first few weeks of summer? Consider our eyes peeled.
Start planning your next manicure:
Now, watch Hailey explain her beauty rules:
Don't forget to follow Allure on Instagram and Twitter.