Ice Spice's Matching Curls and Eye Shadow Proves She Invented the Color Orange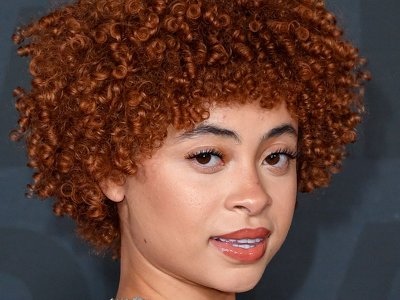 Ice Spice and her ginger ringlets quickly won many hearts in the late summer of 2022 with the debut of her single "Munch (Feelin' U)." Since then, her popularity has increased tenfold in under a year, and she's already been seen at the 2022 BET Hip Hop Awards, the 2023 Rolling Loud festival, and now the 2023 iHeart Music Awards. For her appearance on March 27, she showed out in two different outfits, including a monochromatic one that matched her bright-orange curls.
For the red carpet prior to the ceremony, the Bronx-based rapper slipped into a black and white striped dress with black tights and platform heels. Later on, she transitioned into a bright-orange lace maxi dress that was nearly the same color as her hair. Her short orange curls, which have become a defining part of her look, were coiled into little ringlets. We couldn't spot a single sign of frizz anywhere — perhaps the result of raking mousse or a strong-hold gel through her hair?
She really leaned into the monochromatic vibe for that second look — peep that orange eye shadow. Bright matte shadows that matched the color of her dress were blended all over her eyes with a lighter, shimmery orange pigment focused on the center of her lids. She completed the look with a nude gloss.
This content can also be viewed on the site it originates from.
It doesn't look like Ice Spice will be leaving the limelight anytime soon, so we will be seeing much more of her orange ringlets. And we're not mad at it.
Read more stories about caring for curly hair:
Now watch cosmetic chemist Javon Ford guess the difference between expensive and cheap eye shadows:
Don't forget to follow Allure on Instagram and Twitter.