Vegamour's Hydr-8 Shampoo & Conditioner Have Completely Changed My Curls for the Better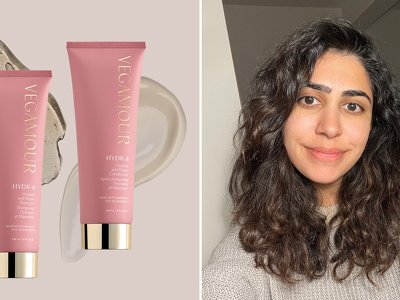 All products featured on Allure are independently selected by our editors. However, when you buy something through our retail links, we may earn an affiliate commission.
I have a dirty little secret…my hair is naturally curly. Now, if you don't personally know me, this omission of truth has no meaning. But if you do, you'd know my hair is always heat-styled. I've been in a committed relationship with my heat tools since the seventh grade — first, we had the Chi straightener until we moved onto the Revlon blow-dry brush, and then finally, when I had enough money saved up, the Dyson Airwrap. Over time, I've been trying to embrace my curls, but I still associate them with looking messy or undone. I know this is rooted in societal standards from years past, but I'm still trying to work through those feelings.
All the curly-haired cuties in my life tell me that it's only a matter of getting the right products into my hand, but I never listened to them. That is, until a friend of mine, who typically never wears her curls out, told me that she credited Vegamour's Hydr-8 Shampoo and Conditioner for her recent hair transformation. At first, I was skeptical because it seemed like another VC-backed hair-care brand with empty promises. But after seeing how great her curls looked, I decided to give the duo a try.
The Vegamour duo relies on Karmatin, a vegan silk substitute for keratin and silicone, which adheres to the hair shaft and helps repair damaged hair, while also fighting frizz. Boston-based board-certified dermatologist Neera Nathan, MD, explains that Karmatin can "coat the hair, act as a sealant, and offer protection, leading to more defined and smoother curls." In addition to Karmatin, the Hydr-8 duo contains aloe vera, murumuru seed butter, moringa oil, and marula oil, which penetrate the hair shaft to provide deep moisture.
While those hydrating and repair benefits sound great and dandy, my biggest concern is that I have a lot of product buildup on my scalp that I have trouble rinsing out, even with the help of a scalp brush. For context, I am a founding member of the Church of Dry Shampoo and typically rely on clarifying shampoos or scalp scrubs, which can be abrasive if used too often, to remove residue.
But after one use of the Hydr-8 shampoo, I was pleasantly surprised to see the formula had removed all the product buildup from my hair and left my scalp feeling clean and refreshed. According to cosmetic chemist and founder of BeautyStat, Ron Robinson, the clean feeling may be attributed to the shampoo's use of magnolia bark extract as it "provides anti-inflammatory and calming benefits." While many shampoos contain sulfates, foaming agents that remove buildup but can dry out the hair and scalp, Vegamour relies on sulfate alternatives such as sodium C14-16 olefin sulfonate and lauramidopropyl betaine to sweep away buildup and dirt.
My hair wash routine really depends on my workout schedule and any upcoming events, but I try to wash my hair every three to four days. To start, I apply a scalp oil such as Squigs Gooseberry Delight Hair Oil or Oribe Gold Lust Nourishing Hair Oil, followed by a massage using a scalp brush. I like to let the oils sit for a few hours while I run errands or clean my apartment.
Then, I use a quarter-size amount of Hydr-8 Shampoo to thoroughly clean my hair and scalp. (If I've used too much dry shampoo, I may opt for a clarifying shampoo first, but I no longer rely on it as much as I used to.) After rinsing out the shampoo, I apply the Hydr-8 Conditioner, which provides a layer of shine and softness that clarifying shampoo can sometimes strip.
By Aliza Kelly
By Dianna Mazzone
By Marci Robin
The writer's soft and defined curls post-shower.
Let's also take a moment to appreciate the shine this duo left behind. After I hop out of the shower, my hair looks Pantene-commercial shiny, and my curls look way more defined than usual. (Normally, I come out of the shower with limp waves, but not in a "cute beach girl who swears by sea salt spray" kind of way.) After a week of use, I noticed that I started to look a lot more like the girls making #CurlyGirlMethod videos on TikTok.
While I'm still a ways away from parting with my hot tools for good, I have noticed considerable progress in the health and appearance of my curls since incorporating this hydrating duo into my hair-care routine. Now that I don't have to worry about my curls frizzing up Chia-Pet-style, I'm comfortable with the idea of wearing my natural hair out and about, which is momentous for me.
Vegamour's Hydr-8 Shampoo & Conditioner set is available now on vegamour.com ($68), amazon.com ($68), and sephora.com ($76; both bottles sold separately).
More hair care we love:
By Aliza Kelly
By Dianna Mazzone
By Marci Robin
Now, watch Rita Ora create a rockstar blue eye shadow look in just 10 minutes:
Don't forget to follow Allure on Instagram, Twitter, and TikTok, or subscribe to our newsletter to stay up to date on all things beauty.