Willow Smith Swapped Her Shaved Head for a Chin-Length Bob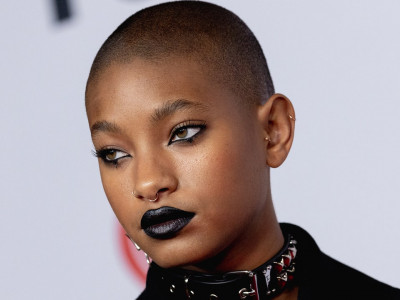 Willow Smith will go down in history as the coolest, at least in our book. She got a buzz cut up on stage while closing out a concert with hands and thoughts focused on only the strings of her guitar. She told more than a thousand words with her buzz cut debut in front of a crowd of blazing fans.
Liberating? Yes. Iconic? Absolutely. A round of applause, please, for the minimal touches of glamour the singer has been feeding the 'Gram with, post-buzz, too. As for Smith's latest, on September 21, she shared a reel with her hands still set on the guitar (we love it here) cruising through a tune by rock band Primusville. She gave a subtle-yet-noteworthy introduction to her new look: a curly, chin-length bob with all the flowing momentum needed for a jam session.
The Mugler fragrance ambassador flaunted the bob, which rounded out at about the nape of her neck. She opted for a blunt cut with frontal, face-framing layers sitting just above her jaw. Parted to one side, her wet-looking curls bounced in abundance.
This content can also be viewed on the site it originates from.
Nearly 2000 Instagram comments later, Smith has followers commenting on the post with how much they love her new look. We can agree. Buzz cut, bob cut, and all of the above have us feeding off the unapologetic energy she so effortlessly conveys through her style.
Is it the end of an era for Willow's shaved head? And will the new hairstyle spark a wave of upcoming music? She recently told Glamour UK about how her hair, at the end of the day, is all about what mood she's in. "Shaving my head is maybe the most radical thing I've done in the name of beauty," she said. "However I'm feeling, I like to do that. I don't really like to think about it too much."
Wise words for sure. Transitions in hairstyle are definitely a commitment, but as Smith pointed out, do what feels natural, and (try) to not think too much about it — although easier said than done.
More on Willow Smith:
Now, watch Meghan Trainor break down her most iconic music videos:
Don't forget to follow Allure on Instagram and Twitter.