Azerbaijan launching local antiterrorist measures in Karabakh - Defense Ministry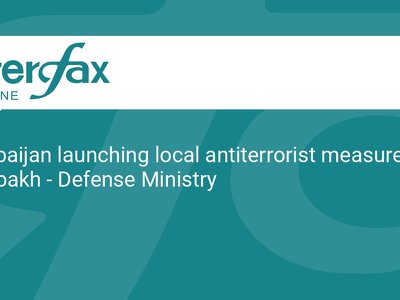 The Azerbaijani Defense Ministry on Tuesday announced launching local antiterrorist measures against Armenian forces in the Karabakh region.
"To enforce the trilateral statement provisions, curb large-scale provocations in the Karabakh economic region, disarm and remove Armenian Armed Forces units from our territories, neutralize their military infrastructure, ensure the security of civilians who have returned to territories liberated from occupation, civilian workers engaged in construction and restoration works, and our military service members, and to restore Azerbaijan's constitutional order, local antiterrorist measures have been launched in the region," the ministry said in a statement.
Said measures involve "the use of precision-guided weapons on the frontline and behind the frontline to disable positions of Armenian Armed Forces units, their permanent firing points, military assets and sites," it said.
"We reiterate that the civilian population and civilian infrastructure elements are not our targets, and only legitimate military targets are being disabled," it said.
The ministry said it has informed the command of the Russian peacekeeping forces and the Turkish-Russian monitoring center of the measures it has undertaken.
The ministry said it has stated repeatedly that "the continued presence of Armenian Armed Forces units in Azerbaijan's Karabakh economic region in violation of the provisions of the November 10, 2020 trilateral statement is a source of a serious threat to peace and stability in the region."
"The regular shelling of Azerbaijani army positions by Armenian Armed Forces units in the Karabakh region, the continued mining of Azerbaijani territory, engineering activities to enhance combat positions, and a growing number of trenches and dugouts over the past months have increased tensions even more," it said.
"We have also observed the reinforcement of [the Armenian Armed Forces'] combat positions with personnel, armored vehicles, artillery systems, and other firing assets, the placement of units on combat alert, the establishment of additional mobilized units, the expansion of reconnaissance activities against Azerbaijani army units, and infiltration into our positions to repeatedly mine territories and civilian roads cleared of mines for sabotage and terrorist purposes," it said.
"The explosion of a mine planted previously for terrorist purposes by Armenian Armed Forces reconnaissance and sabotage groups on the Ahmedbeyli-Fizuli-Shusha motor road in Azerbaijan's Karabakh economic region killed civilians and disabled an automobile belonging to the State Agency of Azerbaijan Automobile Roads on September 19," it said.
"The same day, our troops were killed and injured as a vehicle transporting servicemen of the Interior Ministry's Interior Forces was blown up by a mine planted by an Armenian Armed Forces reconnaissance and sabotage group," it said.
"Such facts manifest the continuation of Armenia's purposeful and consistent terrorist policy against Azerbaijan," the Azerbaijani Defense Ministry said.