World prices react to first ship with grain to leave Ukraine's Black Sea port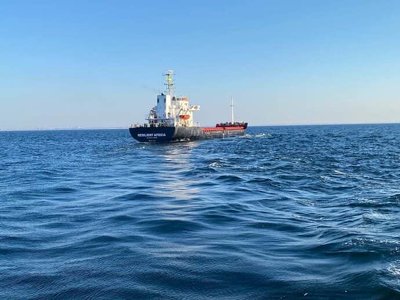 Source: Bloomberg
Quote: "The first grain ship in over two months left one of Ukraine's Black Sea ports, as Kyiv seeks to defy Russia's effective maritime blockade following the collapse of a safe-passage deal. Wheat prices fell."
Details: Thus, wheat futures fell by 1.3% to $5.84 per bushel on 19 September.
Nevertheless, it is too early to talk about any significant impact of this opening of the corridor.
Quote: "The market is watching for a response from Moscow, which has said it would treat any ships headed to Ukraine's ports as potentially carrying weapons. In August, the Russian navy fired on a vessel to force it to stop for checks."
Background: On 19 September, the Resilient Africa vessel left the port of Chornomorsk carrying 3,000 tonnes of wheat and is heading towards the Bosphorus Strait.
In August, the Russian military fired on a civilian vessel in the port of Odesa. Only the effectiveness of Ukrainian air defence prevented Russians' intentions.
Ukrainska Pravda is the place where you will find the most up-to-date information about everything related to the war in Ukraine. Follow us on Twitter, support us, or become our patron!