Yermak calls on sanctioning bodies to 'tackle Russia's military-industrial complex'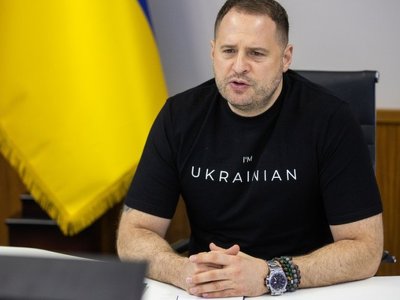 Head of the Office of the President of Ukraine Andriy Yermak has called on coordinators of EU sanctions and the entire sanctions coalition to "tackle Russia's military-industrial complex."
"We should tackle Russia's military-industrial complex. Western components are still used in Russian weapons. Missiles and drones are an absolute priority here. They production has been increasing," he said on the Telegram channel on Monday.
According to Yermak, this means that "our civilian infrastructure and energy system are in even more danger than last year. We have to ensure that Russia's military-industrial complex never receives access to western microelectronics. The same goes for machine building and sensitive technologies."
"This requires the expansion of export control, strengthening of companies' compliance, unified lists of dual-use goods, and synchronization of export policies," Yermak said.
According to him, "in the sphere of energy sanctions, it is necessary to reduce and improve control over compliance with the Russian oil price cap. Violations of price restrictions must be eliminated, as well as the operations of the Russian shadow fleet. The possibility of banning Russian liquefied natural gas should also be considered."
"Further decisive action is needed against Russian propagandists. They must be clearly identified and access to all their assets outside of Russia should be denied. Moreover, they and their close relatives should not enjoy the benefits of a comfortable life and earn income abroad. They should be banned from entering the civilized world," he said.
"We must not hesitate to use the tools of the 11th package against third countries, companies and people helping the aggressor," Yermak said.