Channel migrants tragedy: Five French soldiers accused of failing to help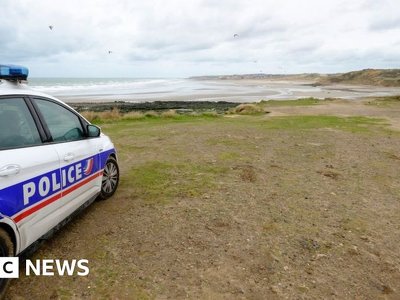 French police have charged five soldiers over the deaths of 27 people who sank while trying to cross the English Channel on 24 November 2021.
They are among nine people detained for questioning. They are accused of failing to help the stricken boat, a judicial source said.
Some 15 calls from the boat were ignored, French media reported.
The disaster is the worst of its kind on record. The migrants were mostly Iraqi Kurds, and aged seven to 46.
News of the indictment was welcomed spokesperson for Utopia 56, an organisation representing the migrants.
"We can only be delighted that things are progressing from a criminal point of view," said Flore Judet.
The small craft sank shortly after leaving the French coast, leading to the death of all but two of those onboard - comprising men, women and children.
Le Monde newspaper previously reported that passengers had first contacted officials in France's Channel rescue centre at 01:48, saying their boat was deflating and their engine had failed.
The group reportedly sent their location by WhatsApp 15 minutes later, but authorities failed to answer. Rescue teams eventually responded 10 hours later, after fishermen raised the alarm.
Speaking at the time of the tragedy, the UN's International Organization for Migration (IOM) said the disaster was the biggest single loss of life in the Channel since it had begun collecting data in 2014.
The UK's then-Prime Minster Boris Johnson said he was "appalled" by the incident, adding that his country would leave "no stone unturned" to stop human trafficking gangs.
In November 2022, a 32-year-old man appeared in a London court in connection with the disaster, having been accused of being part of a group which conspired to transport the migrants to the UK.
Harem Ahmed Abwbaker was alleged to have offered money to the families of migrants who drowned to stay silent.
Last June, French police arrested 15 people - mostly from Afghanistan - who are accused of being part of a smuggling ring involved in the deadly incident.
The UK government has pledged to tackle small boat crossings of the English Channel after record numbers arrived by that route last year.