Deadly US tornadoes: Theatre roof destroyed during heavy metal gig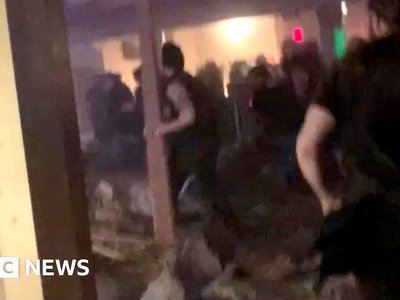 One person has been killed and dozens more injured after a storm caused a theatre roof to collapse in Illinois.
Around 260 people were inside the Apollo Theater, Belvidere, when the roof caved in at 19:55 local time, the local fire department said.
Fire chief Shawn Schadle told reporters 28 people were taken to hospital with five in a serious condition.
A series of fierce tornadoes ripped through several US states on Friday, killing at least three people in total.
Extensive damage was reported in parts of the South and Midwest. The states of Arkansas and Missouri declared states of emergency as tens of thousands were left without power.
A major tornado tore through the Arkansas state capital Little Rock, flipping cars, smashing roofs and toppling trees. At least 24 people were injured, according to the city's mayor.
The state's governor, Sarah Huckabee Sanders, confirmed the deaths of two people around in Wynne, some 100 miles (170km) from Little Rock.
More than 40 tornado reports were made across six states on Friday night, according to the US government's Storm Prediction Center.
Several flights at Chicago O'Hare International Airport were delayed or cancelled as passengers were told to take shelter due to what it described as "severe weather".
In Tennessee, Covington Mayor Jan Hensley pleaded with people not to "drive around" as power lines had been hit by storms.
The Covington Police Department described the city as "impassable" sharing photos on Facebook of roads blocked by downed power poles and large trees toppled in front of homes.
Arkansas Governor Sarah Huckabee Sanders deployed the National Guard after what she described as "significant damage" in central Arkansas.
As of 20:30 local time, more than 70,000 in her state were without electricity, according to the US power outage website.
The University of Arkansas for Medical Sciences Medical Center in Little Rock said it was expecting at least 15-20 patients.
Baptist Health Medical Center, the state's biggest hospital, said it had five patients in a critical condition.
The night of deadly tornadoes comes just one week after a rare, long-track twister killed 26 people in Mississippi.
President Joe Biden visited the state on Friday to pay condolences and promise federal aid.
In a bulletin the National Oceanic and Atmospheric Administration's Storm Prediction Center agency warned some of the projected tornados could track across the ground for long distances.
Bill Bunting, the operations chief for the Storm Prediction Center, told the BBC the last time there were two separate such high risk warnings simultaneously was in April 2012.
The Mississippi tornado last week travelled 59 miles (94km) and lasted about an hour and 10 minutes - an unusually long period of time for a storm to sustain itself.
It damaged about 2,000 homes, officials said.