S Korea dictator's grandson sorry for 1980 Gwangju crackdown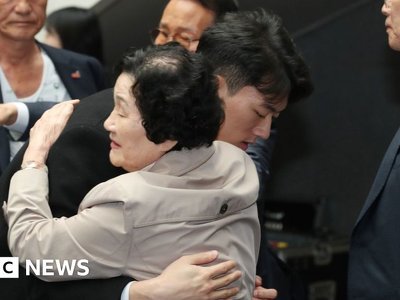 The grandson of South Korea's last dictator has apologised to relatives of those killed in a brutal military crackdown in 1980.
Chun Woo-won, 27, said military strongman Chun Doo-hwan was a "sinner and slaughterer".
The city of Gwangju was the centre of an uprising against martial law, imposed by Chun after he led a coup.
The military's attack on protesters left more than 200 people dead or missing, according to official figures.
On Friday Chun Woo-won praised the courage of those who opposed his grandfather's military regime.
He said his grandfather "committed such a great crime" and added that he was "sincerely sorry for not apologising any sooner".
Mr Chun also visited the city's national cemetery, the first person in his family to do so.
Some victims' relatives welcomed Mr Chun's intervention, with one hugging him at a press conference at a memorial centre.
"Chun Doo-hwan died without ever apologising" Prof Shin Yul from Myongji University in Seoul told AFP.
"Someone in his family should have done it in a proper manner a long time ago," he added.
The 1980 pro-democracy demonstrations attracted tens of thousands of people and the military deployed thousands of troops to confront them.
On the ninth day of the demonstrations, soldiers opened fire on protesters who had gathered at the provincial government office in Gwangju.
It is alleged these troops carried out indiscriminate beatings, torture, sexual assaults and disembowelments.
The military also ordered helicopter gunships to fire on protesters and had fighter jets armed with bombs on standby.
Surviving eyewitnesses say the true death toll was far higher than the 200 deaths officially acknowledged.
In 2018 the government apologised for the rape of women by troops in Gwangju.
Chun Doo-hwan's rule ended in 1988. He was convicted of treason and corruption in 1996 but was later released from prison after a presidential pardon. He died in 2021 aged 90.
Mr Chun, who lives in the US, has also made headlines in South Korea for making corruption allegations against his relatives on social media.
During one livestream he claimed to have taken narcotics and was arrested when he landed in Seoul on Tuesday. South Korean citizens are banned from consuming illegal drugs abroad. He was released the following day.