Zelenskyy, Sandu ready to strengthen cooperation in countering challenges from Russia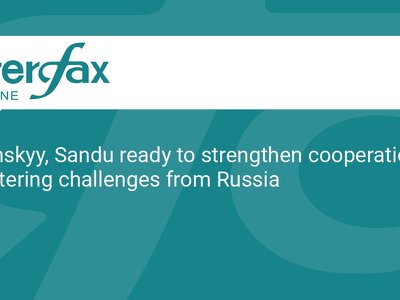 President of Ukraine Volodymyr Zelenskyy held talks with President of the Republic of Moldova Maia Sandu, who is visiting Kyiv at his invitation, the press service of the Ukrainian head of state said.
"The president noted the importance of Moldova's solidarity with the people of Ukraine in the context of the ongoing Russian aggression and stressed the will to continue doing everything necessary to develop friendly and close relations between our states," the office said.
As noted, Zelenskyy highly appreciated the signals of the Moldovan side in support of Ukraine and the visit by the President of Moldova to the cities affected by the Russian occupiers.
The head of the Ukrainian state informed his colleague about the situation at the front. The leaders expressed their readiness to strengthen cooperation in countering challenges coming from Russia and exchanged views on the need for further sanctions pressure on Moscow.
Zelenskyy and Sandu substantively discussed topical issues of bilateral cooperation, the press service of the Ukrainian president said.
According to the press service, the President of Ukraine welcomed the joint progress in the development of transport infrastructure, in particular, the connection of Odesa region and the south of Moldova with a new railway corridor with common border and customs control.
The parties positively noted the work of the relevant departments of the two countries aimed at increasing the throughput at certain border sections.
Special attention was paid to the issue of creating a special tribunal for the crime of aggression against Ukraine, the presidential press service said.
The Presidents of Ukraine and Moldova also discussed the progress and further prospects for the movement of the two states along the path of European integration.
During the meeting, Zelenskyy expressed gratitude to the Moldovan side for the decision taken by the national parliament to recognize the Holodomor in Ukraine as an act of genocide against the Ukrainian people.