Germany showed the Leopard 2A7 tank with the Israeli Trophy ASP active protection system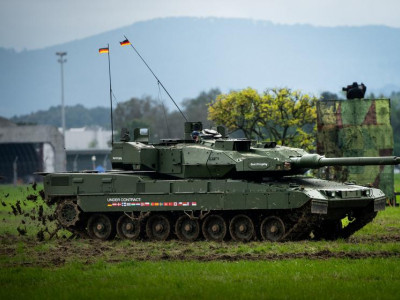 The German company Krauss-Maffei Wegmann brought its newest Leopard 2A7 tank with an Israeli protection system to the exhibition in the Czech Republic.
The combat vehicle was demonstrated as part of the NATO Days 2022 event, which took place last weekend in the city of Ostrava. Thus, the Israeli company Rafael Advanced Defense Systems is trying to promote the Trophy ASP to the European market.
On the side of the tank are the flags of the countries that operate the Leopard 2A7: Germany, Austria, Denmark, Greece, Finland, Hungary, the Netherlands, Norway, Poland, Portugal, Spain, Sweden, Switzerland, Turkey, Canada, Chile, Indonesia, Bahrain, Singapore, Finland, Hungary.
Trophy ASP is a system of active tank protection introduced in 2005. An alternative name is ASPRO-A, which is an abbreviation for Armored Shield Protection – Active. The armor was able to repel a shot of an anti-tank guided anti-tank missile without a warhead during the 2010 tests.
The system includes a detector that can determine where the tank is being fired from. After that, the on-board computer calculates the trajectory and commands the device to destroy the ammunition on the approach to the combat vehicle.
Trophy ASP uses Elta's EL/M-2133 radar stations. They are responsible for detecting and identifying rockets or rocket-propelled grenades. The stations also activate launchers that launch interceptors to destroy ammunition.
Please donate for our edition and Ukrainian people. How to Donate?