"Mommy, Are You There?": Survivor of Russian Missile Strike on Kyiv Recalls How She Was Saving Herself and Her Daughter under the Rubble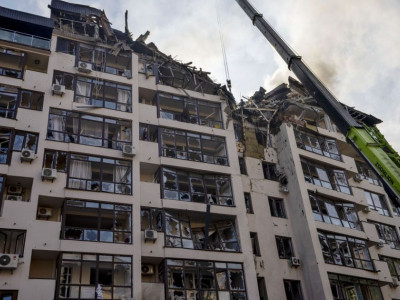 A 7-year-old and her mother, who survived the missile strike on Kyiv, are finally together now. At first, they were admitted to different hospitals, however yesterday Katerina Volkova was finally transferred to Okhmatdyt, where the doctors have been taking care of her daughter since the day of attack.
When talking to TSN reports, the woman recalls details of that fatal days.
Katerina and her young daughter are in the same hospital room. Yesterday was the first time, when they saw each other after their house was hit by the Russian missile leaving the family buried under the rubble.
On that fatal Sunday morning, the woman was woken up by the explosion. "The window panes were blown away, we quickly got up and rushed down the stairs. We had a two-storey apartment on the other side of the building", Katerina recalls.
Hr husband didn't have enough time to get out. After the first explosion he ran upstairs to save the family dog, but as soon as he reached the second level, another Russian missile hit the building. "The only thing I remember is me falling with my back had downwards. I think it was 2-3 levels high. When I was just about to pass out, I heard my daughter's voice screaming somewhere from below: "Mommy, are you there?". Then I realized that I have to stay conscious", Katerina says.
Her 7-year-old daughter, Zhenya, attempted to call for help. "I told her: strain voice, because when people come to save us, you won't be able to shout. Come on, breath deep, and then we wills shout together", the woman shares.
Neither of them can now recall how much time they spent under the rubble. "We heard male voice, and that's when I said to my daughter: Zhenya, let's shout now. So she started to shout. She has a strong voice. She screamed pretty loud, and then I heard that someone had finally found her, I heard her talking to some man", Katerina continues.
A bit later, the first responders pulled the woman out and rescue her from the exploded building. The same afternoon Katerina learned that her husband – Oleksii Nikitin, a lawyer from Kyiv – died under the rubble of what once was their downtown apartment. "He was my soul. Everyone always called him a soul of the company, because he was the soul for everyone", the woman says speaking about her late husband.
Now Katerina and her daughter receive medical and mental care at Okhmatdit hospital. "They both have very favourable prognosis. We expect that they will fully recover. Time and treatment is exactly what they need right now, but as for their mental health, it's hard to predict anything", the healthcare provider explain.
Young Zhenya still cannot comprehend what happened to her.
"She's overwhelmed, it's hard to recover from such experience. She still doesn't exactly realize what happened to her. Our job here is more about prevention and giving her enough resource to achieve emotional stability, resilience and acceptance", the metal health professionals say.
That Sunday morning, the Russian troops launched several missiles targeting the downtown district of Lukianivka. One of them hit a kindergarten, while the second crashed a 9-storey-high apartment block. The apartment, where the family used to live, is now totally ruined. The windows were blown away together with window frames, the ceiling collapsed. Three stories of the apartment block were completely destroyed. The civil construction engineers are still not sure whether the house can be restored or it should be demolished all together. Meanwhile, the Russian government stays true to its usual tactics and claims that the whole attack was staged by the Ukrainians.
"Why are they doing it? I woke up every morning and lived a normal life, I went to the church on Sundays. I'm real living human being, I'm not a fake. I've read their statement. Sorry, but it's a nonsense. I dressed the wounds of two survivors, they were alive, they were real". Oleksandr, a resident of a nearby house, says.
The man moved here with his wife two days before the missile strike. The couple didn't even have enough time to get the new furniture out of the trunk. Now Oleksandr's car is badly damaged. He and his father hope that at least the engine is intact, and the vehicle may be repaired.
Meanwhile, Katerina and her young daughter are trying to find enough strength to move forwards. They are immensely grateful to the first responders how saved their lives and rescued them from the wreckage.
Read also: