Express Review Of External HDD Apacer AC533 1TB In Three Colors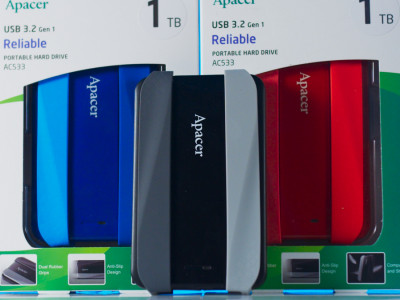 Apacer AC533 has always had advantages that I very, very rarely see in other branded external hard drives. Actually, specifically, the AC533 model has only one advantage, and it easily compensates for the shortcomings that the disk has. Because there are some.
Don't want to read? Watch the video:
The price cannot be considered a shortcoming, the cost of such a disk is $45. This is almost on par with a regular terabyte hard drive. By the way, there is no SSD here, but just a 5,400-rpm HDD.
I also can't describe the delivery set as lacking – inside the box there is a USB cable and the disk itself.
I am showing you the speed now, and no, it is not a disadvantage either. Not a record holder, but not the bottom by any standards.
If you don't compare with SSD, of course, but we won't, because those are different classes of devices, and a terabyte USB SSD will cost almost 3 times more.
My comments relate to two issues. The first is impact resistance. Shockproof is written on the box in ink on paper. At the same time, the only parts that can really protect against impact are these rubber pads, which are easy to remove, and which do not protect at all from the sides.
The second point is the only glossy piece on the disc body. In fact, it is so gentle that it is scratched even with cloths for wiping optics, and highlights fingerprints as if we are in an episode of CSI Miami.
And that's it… the flaws end here. But actually, these are not really shortcomings. Because yes, the rubber will not protect the disc against impacts, but its price is the same as that of an ordinary unprotected one. And Apacer has some that are protected, including from moisture.
Plus, if you buy two different discs, you can mix the colors of the overlays, because they are interchangeable. It will also be more difficult to mix up the discs, because the pads are not the same color.
Of course, I have always been against the soft gloss on cases absolutely everywhere, but the gloss is even useful, because it shows how old and used the disc is.
Well, the main advantage of the Apacer AC533 1TB is the connector. Standard USB Type-A. It is less popular among the devices of this kind, because other companies almost always have Micro-B 3.0.
However, this cable is, firstly, two-way, and secondly, it can be replaced with a regular Type-C to Type-A version 3.0 adapter, as well as a quality Type-C to Type-A cable. Which also sounds like a lot of work, but I've always been praising versatility.
And if you have one cable with which you can both transfer data to a hard drive and charge any modern smartphone… Then why not? Of course, not all cables are suitable, you need a really good one, and none of my Type-C to Type-C worked , not even Thunderbolt 3.
Considering the price and versatility, I can easily recommend the Apacer AC533 1TB. Don't expect everything it says on the box, and it disappoints me. Therefore, I will say so. Marketing has managed to make many products worse. But this is not one of those cases.
Read also:
You can also help Ukraine fight with Russian occupants via Savelife or via an official page of the National Bank of Ukraine.
Δ
Δ