Harry Kane to haunt Man Utd, Jurgen Klopp to win missing trophy, and more as Champions League, Europa League and Europa Conference League return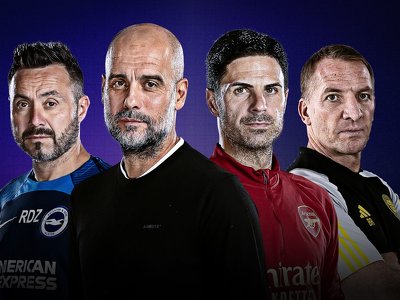 European football returns this week with the Champions League, Europa League and Europa Conference League group stages getting under way on Tuesday.
Here, the Sky Sports football writers reflect on the big talking points as British clubs start their campaigns...
As Pep Guardiola chases a personal record fifth Champions League medal, progress from Group G should be relatively straightforward for Manchester City.
That once elusive honour was the missing part of Guardiola's City puzzle, but to become a real European super power, to be idolised and respected in continental circles like Real Madrid and Barcelona are, one title is not enough. Far from it.
City are relative newcomers to the Champions League parade. They don't have a longstanding history in this competition - although perhaps, in years to come, they may be retrospectively looked upon as one of football's best new era achievers.
One of the pioneers of the 'new money' clubs - similar to Chelsea's trajectory post-Roman Abramovich. Entrepreneurial, like Gen Z, but with a less entitled attitude.
Guardiola knows the Champions League cannot be bought. There's no magic wand. City have long been the best team in England, three successive Premier League titles has proven that, but they have faltered on the European stage. And there's no prophecy that will afford City the perfect route to European silverware this time around, although the bookmakers do have them as odds-on favourites to retain their primitive crown.
Champions League fixtures
Find out more about Sky Sports
Europa League Fixtures
Europa Conference League fixtures
You would expect City's title defence to begin easily in a group where RB Leipzig are the only real threat - but beyond that, with other more established European forces out for vengeance (they beat Bayern Munich and Real en route to last year's final), it certainly will not all be plain sailing.Laura Hunter
There will be something of a 'here's what you could have won' feeling for Man Utd supporters watching Harry Kane face up against their side in Bayern Munich colours on Wednesday.
With a striker Erik ten Hag's top priority in the summer transfer window, United's desire to sign the England captain was no secret. But finances and Tottenham's preference not to sell to a Premier League rival proved problematic.
Now an in-form Kane could add to their mounting early-season problems in Bavaria. Defensive and attacking numbers are on the decline for Ten Hag's men, off field issues are multiplying and a return of three defeats from their first five Premier League games has alarm bells ringing.
Please use Chrome browser for a more accessible video player
If the loss at home to Brighton on Saturday was a reality check, the fear is Bayern could deal an even more damaging blow to their morale and expectations for this season.
The return to the Champions League has been craved after a season away. This is where Man Utd feel they belong. But unless there's a significant step-change against Kane and co, things could be about to get even more troublesome for Ten Hag's travelling side in Munich.Peter Smith
Arsenal are back!
It's been a little while in coming with the Gunners competing in Europe's top club competition for the first time since the 2016/17 season.
It represents a new challenge for a lot of Arsenal's young squad with the likes of Bukayo Saka, Gabriel Martinelli, Ben White and Aaron Ramsdale set to experience the competition for the first time.
It will also be Mikel Arteta's first taste of the Champions League as a manager.
Despite the six seasons absent from the competition, expectations are still seemingly high around the impact Arsenal could make when they start their campaign at the Emirates Stadium on Wednesday against PSV Eindhioven.
Arsenal's summer additions were to help Arsenal contend with the rigours of a Champions League schedule and ultimately compete, according to Arteta. Interestingly, they are fourth favourites to win the competition behind Man City, Bayern Munich and Real Madrid.
It's a new challenge for Arteta as Arsenal look to win the competition for the first time, but it's one they have worked extremely hard for and one the Spaniard and his young squad will relish.Oliver Yew
The opening line of AC Milan's pre-match anthem reads: "What a mess, but it's because I love you." Perhaps that will go through Sandro Tonali's mind when he steps out at the San Siro on Tuesday night.
The boyhood AC Milan fan left the Rossoneri for Newcastle in a £60m deal over the summer, leaving many at the Serie A club stunned at the departure of the club's heartbeat.
However, Tonali's exit has been viewed as a type of sacrifice, with that transfer money reinvested in the likes of Christian Pulisic and Ruben Loftus-Cheek, who have started the season strongly in front of goal alongside fellow former Chelsea striker Olivier Giroud.
Tonali had played a major role in Milan reaching the Champions League semi-finals but that's why Newcastle went for him. The Magpies will embark on an epic first Champions League journey in 21 years and with PSG and Borussia Dortmund also in Group F, Eddie Howe's side could use Tonali's know-how with every single point crucial…Sam Blitz
Celtic and Brendan Rodgers are used to dominating Scottish football, but it is different story when it comes to Europe.
They finished bottom of their Champions League group in his first season at Parkhead, they dropped into the Europa League before falling at the first hurdle in year two. In year three, they failed to even get past the third qualifying round.
Making waves in Europe was also the one thing Ange Postecoglou could not crack at Celtic.
They failed to get past the Europa League last 32 in his first season, while Celtic finished bottom of their Champions League group last term with just two points.
This season Celtic have been drawn with Feyenoord, Lazio and Atletico Madrid, a relatively favourable group avoiding big hitters such as Manchester City, Real Madrid and PSG who have outclassed them in the past.
Their opening two ties are against Feyenoord away and Lazio at home. Three points from those games would spell a decent start as they look to at least secure Europa League football after Christmas.
Rodgers has left new signings Maik Nawrocki and Marco Tillio out of his Champions League squad as the return from injury, but Cameron Carter-Vickers is included despite being sidelined for the same period as fellow defender Nawrocki.
Left-back Alexandro Bernabei also misses out but fans will be keen to see if new recruits Nat Phillips, Gustaf Lagerbielke, Luis Palma, Odin Thiago Holm, Paulo Bernardo and Hyun-Jun Yang can make an impact in European football's elite competition.Alison Conroy
So after eight seasons in the Champions League, it's back to the Europa League for Liverpool.
Not since 2015/16 - Jurgen Klopp's first full campaign at Anfield - have Liverpool competed in Europe's second-tier tournament, although they did go all the way to the final that season, with Europa League specialists Sevilla finally ending their run.
Klopp has taken Liverpool a long way since then, when Simon Mignolet and Nathaniel Clyne were the players to make the most appearances for Liverpool during that Europa League run.
This time round, Klopp has a squad packed with stars and, while the likes of Virgil van Dijk and Mohamed Salah may not relish the prospect of a season in the Europa League, Klopp will no doubt urge his players to embrace the experience.
After all, a glance over the eight groups of four explains why Liverpool are comfortable favourites to win the tournament. The prospectof playing the final in Dublin - home to huge swathes of Liverpool fans and just a short hop across the Irish Sea from Anfield - provides further incentive.
Should Liverpool require further motivation, Klopp will surely point to the fact that the Europa League is the only major trophy he hasn't won at the club.
Liverpool don't often play in the Europa League these days. They should make the most of the experience.Joe Shread
It has been a tough few weeks for Rangers fans.
A defeat at home to Champions League-bound Celtic followed a crushing loss in Eindhoven as Michael Beale's side dropped into Europe's second-tier club competition.
The Europa League may however offer supporters some hope as they cast their minds back to a remarkable run to the final last May.
Rangers beat Borussia Dortmund, Red Star Belgrade, Sporting Braga and RB Leipzig en route to Seville where they eventually lost on penalties against Eintracht Frankfurt.
The squad has evolved this summer with nine signings arriving and hopes will be high as they face Real Betis, Aris Limassol and Sparta Prague in the group stages.
Progressing to the knockouts will be a minimum target for this group, however, repeating the feat of 2022 and reaching the final in Dublin is a tall order.
Ajax, Atalanta and Liverpool - all opponents Rangers lost to in last season's winless Champions League group stages - could await in the latter rounds.
Supporters have shown they can roar the team onto memorable nights in Europe - time will tell if the players on the pitch can deliver performances that can fuel their fire.Sahil Jaidka
West Ham have made something of a habit of excelling in European competition over the past two seasons.
Their sixth-place finish in 2020/21 brought a return to the Europa League for the first time in five seasons - and David Moyes' side managed to balance the extra weight load to near-perfection; they finished seventh in the Premier League and progressed all the way to the semi-finals, where they were beaten to the final by eventual champions Eintracht Frankfurt.
Finishing on two points less than sixth-place Manchester United was only enough to secure a spot in last season's Europa Conference League, but the Hammers did not turn their nose up at the chance to potentially go one better.
In fact, they stormed their way through the competition. They fin