Ref tells Geno Smith 'I'm talking to America' as he tries to argue call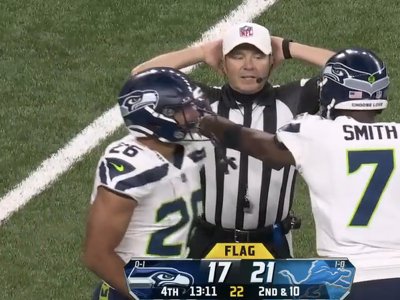 A heavily-debated ruling by the referees during the third quarter of the Seattle Seahawks vs. Detroit Lions game gave way to an instant classic soundbite during Week 2 of the NFL season.
Seahawks QB Geno Smith dropped back to pass and thought his receiver, Tyler Lockett, was running a go route to the end zone. Smith threw the ball deep, but Lockett wasn't on the same page, and chose to break off to his route short.
The refs called the play intentional grounding, which made Smith and Seahawks head coach Pete Carroll livid. As Smith pleaded with the official, the ref looked at him and said "I'm talking to America here."
Pete Carroll is HEATED after an intentional grounding call pic.twitter.com/7zM2PSYCgm— FOX Sports: NFL (@NFLonFOX)
Related
FOX color commentator Greg Olsen immediately said "that's the best line I've ever heard out of an official," and he's not wrong. Stop complaining Geno, I'm talking to America here!
Here's the play that led to "I'm talking to America here." Smith is inside the tackle box, and the throw isn't close to the receiver. He isn't pressured, so it's not like he's trying to get rid of the ball. Did the refs make the correct call here?
Geno Smith called for intentional grounding, terrible call by the refs pic.twitter.com/e9gF7Oifsl— Tedd Buddwell (@TedBuddy8)
Smith and Lockett would get their revenge later in the game. The duo connected on the game-winning touchdown in overtime to give Seattle a 37-31 win. Watch that play here.
TYLER. CALLED. GAME. FOX pic.twitter.com/VS9N9NlJBM— Seattle Seahawks (@Seahawks)
Smith and Lockett were electric in Week 2 to give Seattle its first win of the season, but at least for a few minutes, the sassy ref was the real star of the show.