Latest updates as Colts QB Anthony Richardson evaluated for concussion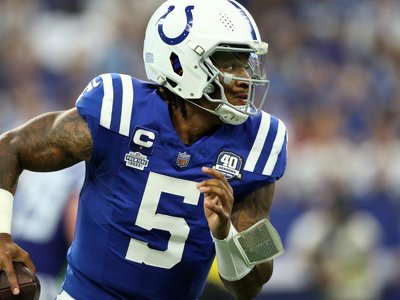 Anthony Richardson played well in the first half of the Colts' Week 2 matchup against the Texans.
However, he didn't make it through the period unscathed.
Richardson suffered an apparent head injury on his second rushing touchdown of the game. He fell to the ground and appeared to hit the back of his head on the turf as his head whipped into the ground.
Drive opening. Drive closing.📺 FOX pic.twitter.com/2OFNzctfy6— Indianapolis Colts (@Colts)
MORE: Why Brock Purdy vs. Matthew Stafford matchup is historic
Richardson left the field under his own power but flagged down the Indianapolis medical staff when he reached the sidelines. The rookie quarterback was taken into the blue medical tent and remained there for about five minutes before walking back to the locker room.
Anthony Richardson heads to the locker room with an apparent injury pic.twitter.com/T03QqaiS4E— FOX Sports: NFL (@NFLonFOX)
The Colts announced that Richardson was being evaluated for a concussion. He was ruled out for the contest before the first half ended.
QB Anthony Richardson (concussion) has been downgraded to out. #INDvsHOU— Indianapolis Colts (@Colts)
Richardson's absence will force the Colts to turn to their backup quarterback to manage the game. Indianapolis will now be one injury away from becoming the first NFL team to activate their emergency quarterback.
Gardner Minshew is the Colts' backup quarterback. The former Eagles and Jaguars passer signed with the Colts in free agency, following coach Shane Steichen over from Philadelphia.
Minshew is regarded as one of the NFL's better backups and, entering Sunday's action, had completed 62.7 percent of his career passes for 6,632 yards, 44 touchdowns and just 15 interceptions. So, he has the skills needed to lead the Colts effectively in Richardson's absence.
That said, Minshew has a record of just 8-16 as a starter, so Indianapolis will certainly be hoping that the dynamic, mobile Richardson will be able to return to action soon — even if not against Houston on Sunday.
The Colts have three quarterbacks on their 53-man roster. They are as follows:
Richardson is the team's normal starter while Minshew is an experienced backup, as mentioned. However, if both players are injured against the Texans, Ehlinger would be eligible to enter the game as an emergency quarterback because he is on Indianapolis' 53-man roster.
Ehlinger has completed 63.4 percent of his career passes for 573 yards, three touchdowns and three interceptions. He also has solid mobility and has 96 career rushing yards on 20 careers. That said, he has an 0-3 record as a starter, so the Colts may not be confident if Ehlinger has to see the field at this early stage in the season.