Chris Billam-Smith and the making of British boxing's most unlikely world champion | 'I'd KO Okolie in rematch'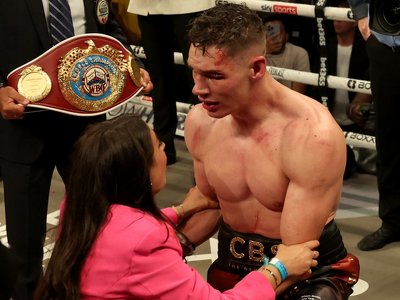 This was never meant to be.
Some fighters seem almost pre-ordained to be champion. Perhaps it's the confidence, the style of their boxing, as well as an amateur track record. For Chris Billam-Smith, though, that was never the case.
When Billam-Smith first joined Shane McGuigan's gym, he was, as he put it, "very much the runt of the litter".
Please use Chrome browser for a more accessible video player
At that time George Groves was the WBA super-middleweight world champion and one of the best fighters in the country. Undisputed champions in the making Josh Taylor and Chantelle Cameron were in the early stages of their outstanding careers at McGuigan's gym.
As an amateur Billam-Smith had been good but not stellar. He first reached an Elite final in 2013 but despite a second finals appearance three years later never won the national championships. Despite several trials for the Great Britain squad, he was never selected.
He was never meant to get as far as he has.
When he turned professional he harboured his own ambitions, but expectation for him was not high.
Live boxing on Sky Sports
@SkySportsBoxing on Twitter
Sky Sports Boxing YouTube
Sky Sports Boxing Facebook
Working his way through small hall shows and the occasional undercard slot he suffered a 2019 loss to Richard Riakporhe. That could have consigned him to domestic level.
Please use Chrome browser for a more accessible video player
But he moved forward. Today he has won British, Commonwealth, European and now world championships.
"I don't think anyone else believed I could do it, but you've got to believe in yourself when no one else will," Billam-Smith told Sky Sports.
He pinpoints perseverance, consistency and being "coachable" as the keys to that unlikely success.
But he also credits the work of trainer Shane McGuigan, who has guided him through from his professional debut to where he is now.
"Consistency, perseverance and just having that belief in in the process and not wanting everything straight away," he said.
"You can be coachable but if you haven't got a phenomenal coach then you're getting taught the wrong things. I've obviously got a phenomenal coach, a phenomenal team around me and the standard in the gym is very much world champion or nothing. There's no in-between.
Please use Chrome browser for a more accessible video player
"That's just always the goal for everyone who walks through the door in the gym and trains under Shane. Some people might not reach it, but we all reach for the very, very top, just staying consistent with it all and doing all the little one percents, looking for edges here and there.
"Still to this day I'm finding new ways to train and new ways to recover and things to help me through and make me a better fighter and better athlete."
Gym-mate Ellie Scotney soon joined Billam-Smith as a world titlist after his WBO cruiserweight world championship victory over Lawrence Okolie earlier this year.
"We've got a documentary [Stable] coming out, so hopefully that will really shine a light on it and how much of a team and a family we are in the gym," he said.
Please use Chrome browser for a more accessible video player
"Shane's trained me throughout, Barry and Jake [McGuigan] have looked after the management side. It's amazing what they've done. I think it's one of the best-managed careers I've seen from the outside. Yes, I might be biased but when you look at it from where I've gone and the fights we've had and risks we've taken, they've all been worth it."
His world title challenge against Okolie, even though it was the dream opportunity he'd longed for, even though it came at the Vitality Stadium, the home of his beloved Bournemouth football club, was nevertheless a risk.
Okolie's fights hadn't always entertained but at the time he was widely regarded as the most difficult cruiserweight in the world to beat. He was big, awkward, a heavy-handed puncher who had never previously come close to losing.
Given that Okolie had also previously trained with Shane McGuigan, the two had sparred hundreds of rounds together as well. Okolie knew Billam-Smith just as well as he knew him.
Please use Chrome browser for a more accessible video player
Not only had Okolie been the GB No 1 and Olympian that Billam-Smith had wanted to be as an amateur, every pro title the Bournemouth man had picked up, Okolie had won first.
"I've been wanting to fight Lawrence since 2016, because he was No 1 in the country as an amateur, was No 1 seed in the ABAs and then he qualified for the Olympics, so they took him out and I got to the finals, so I was annoyed about that," he said.
"That was always the aim, to fight him, and then there was like a divine intervention that waited till he was world champion, had the very top honours and I got the opportunity to fight him then.
"That was always my goal, so for some reason it happened on the night of all nights; in terms of the setting and what it was for, the world title."
To compound the difficulty of the task, Billam-Smith fell sick in the week of the fight.
"I've been ill on fight weeks earlier on in my career, but this was probably the worst I've ever been, because I couldn't eat anything for two days. From Thursday to Saturday night, I only managed to eat three meals, one was Friday, two on Saturday because I just couldn't stomach it," he recalled. "I was trying to drink as many calories as I could."
He made weight easily enough the afternoon before the fight, which also happened to be the day of his son's first birthday.
Even though he was sick and facing a 12-round world championship contest, Billam-Smith never considered pulling out of the fight.
"That was never happening. There was 15,000 people coming to watch me. My whole family were there. My son's birthday, I promised him a world title for his birthday a day late," he said.
"There was plenty of motivation there for me and I just thought, it's 36 minutes of work, if that's all I can do even without a warmup, if I couldn't warm up because I had no energy, then I would have just got on with it for 36 minutes and just persevere through."
His mindset has been the overriding element that led him to championship success.
"Mentality I think is the biggest thing in boxing," he said. "I've always been a very mentally strong character and it's been built on over the years from stuff that happens, down times, harder times… Just persevering through it.
"On fight week, nothing stops me."
In the decade since his first appearance in a national amateur final, Billam-Smith had changed his boxing style too, going from a long-range technical type to an effective attacker on the inside as he became a seasoned professional, albeit one whose defence can leak too much.
Okolie bombarded him with heavy punches as he advanced. But as well as his mental strength, Billam-Smith is physically tough.
"My eye [which was badly cut] will tell you that they were powerful shots but I was never buzzed in the fight," he said.
"I felt very comfortable in there. Watching it back on the tape probably took a few too many and like I said, my eye tells its own story.
"He obviously carries a lot of power in that right hand, maybe I was able to ride them slightly and stuff like that, having that experience in the ring with them, but I felt comfortable, never felt in danger in the fight at all, so I'm pleased in that sense."
Mayhem broke loose in the fight. Billam-Smith dropped Okolie three times in total, and the Londoner had points deducted for holding in the fifth and seventh rounds.
"I think it was a mindset thing," Billam-Smith said. "I was very calm, and he was very panicked in there.
"He was landing shots and they weren't having the effect that he wanted so he'd hold and because I'd hurt him, it was a very safety-first approach in terms of, I'll punch and hold or sometimes he wouldn't throw a punch.
"His punches weren't doing much and mine would do more than he expected."
Ultimately he came through, beating Okolie by majority decision.
With the result announced, Billam-Smith fell to his knees in the centre of the ring, his cut bleeding, embracing his wife, crying with joy.
He only revealed after the fight that his mum was having to go through treatment for cancer.
"I think that was why it was so emotional. I think it just hit me; I had thoughts of my mum, thoughts of my son's birthday the day before, spending all that time away from my wife and my son, and then just the journey I've been on," he said.
He wonders now whether he inherited a certain element of fortitude from his mother. "No idea where that comes from, maybe there's mental toughness from my mum because she's a very, very tough woman," he said.
"Mentally, she's very positive and has been through a lot so maybe I get the fight from her."
His journey will continue, though Billam-Smith advises Okolie against pursuing a rematch.
"When you lose to me again, where do you go? The rematch can always be there if you rebuild and win a world title, because I believe I've got his number, from the experience I've had with him, which no other cruiserweight's got," Billam-Smith said.
"It's very easy for me to know what he does well and doesn't do so well. So I can pick those holes and deal with his awkwardness, whereas a lot of people struggle with the awkwardness and they've only got 12 rounds to figure it out whereas I knew what it'd be like.
"If he went away and beat the people that haven't got that experience, and got another world title, and wanted to stay at cruiserweight then we could do it as a unification.
"I think he'd beat Badou Jack. He'd definitely give the other champions problems. I think that they would struggle with him."
In a second fight, he warned, that he would knock Okolie out. "I'd do even better in the rematch," Billam-Smith insisted.
Because of his illness, in the first fight he believes: "I was probably at 60 percent max. Putting on the extra weight would've helped, I couldn't do as much as I'd like, Shane was gett