Tracking which teams are in the NCAA baseball super regionals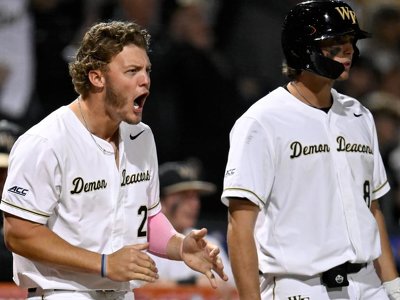 It's a super Monday before the super regionals.
The NCAA baseball tournament continues on, with the road to the 2023 College World Series still a bit murky entering the final day of regional matchups (weather permitting) before the super regionals enter the fray this upcoming weekend.
On June 5, there will be at least seven games to be played which will determine the remaining seven teams to punch their tickets to the super regional round. Alabama and Wake Forest already are locked in to play each other in the next round, as are Oregon and Oral Roberts.
Outside of that, six super regional matchups remain unsettled, with a long day of baseball solidifying the picture for all 16 teams who want a chance to dogpile in Omaha as Texas, Tennessee, South Carolina, Virginia and Indiana State all await their opponents for next weekend.
Should Oregon State and TCU win their matinee matchups Monday, then they will push to a deciding final game on Monday night, stretching the slate to nine games total.
MORE: Watch NCAA baseball games live on Fubo (free trial)
Here's who has clinched and who will be playing for a spot in the next round this upcoming weekend:
The super regional matchups will be set by end of day on June 5: Here's what the prospective matchups will be:
MORE: How the College World Series format works
There will be at least seven NCAA baseball tournament games on today, and as many as nine, to set up the super regional slate. All games will live stream on ESPN+.
For the games which are airing on the ESPN family of networks, Fubo carries ESPN as well as ESPN2, ESPNU and others. Fubo also offers a free trial.
Here's the schedule for Monday, June 5:
*If necessary