When will 20-year-old phenom Rose Zhang play next after winning LPGA debut?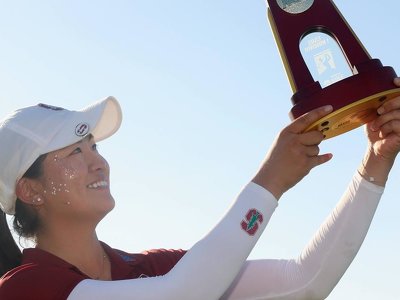 Rose Zhang is already leaving her mark on the LPGA world.
The 20-year-old Stanford phenom won the 2022 and 2023 individual women's NCAA titles, then came to New Jersey and won her first LPGA event.
With Zhang's victory at the Mizuho Americas Open, she became the first player in 72 years to win her LPGA debut. Zhang shot a 9-under 279 and tied with Jennifer Kupcho after 72 holes. She ended up winning via playoff, securing a spot in history.
With the golf world's eyes on Zhang, what is next for the budding superstar? She has already lived up to her lofty expectations entering her 20s. But golf fans will have to wait a bit to see her again.
MORE: How much money did Rose Zhang win with victory in LPGA Tour debut?
Zhang will not be present at the Shoprite LPGA Classic in Galloway, New Jersey, this week — and for good reason: She has finals at Stanford.
"I'm also moving on the 13th, so I have a busy week ahead of me, and that's not golf related," she said at a news conference Sunday.
That means golf fans are going to have to wait to see the most impactful headliner since Michelle Wie took the golf world by storm in 2009.
The next time we may see Zhang is the Meijer LPGA Classic in Belmont, Michigan, immediately north of Grand Rapids, which runs June 15-18. The following week brings the Women's PGA Championship at Baltusrol.
Zhang has only played in one professional event, but her win total goes far beyond the LPGA.
She won her second straight individual national championship and her first professional event in a span of just under two weeks (13 days, to be specific).
Some of Zhang's career victories -- professional and otherwise -- include:
That resume looks like it's going to get a lot longer now that Zhang's professional career has begun in earnest.