Champ to caddie: Hovland helps pal's Open bid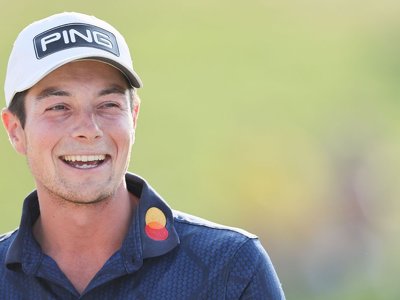 Less than 24 hours after securing the biggest win of his PGA Tour career, Norwegian world No. 5 Viktor Hovland is caddying Monday for a former college teammate who is looking to secure a spot in next week's U.S. Open.
Hovland earned his fourth PGA Tour title Sunday and first on U.S. soil at the Jack Nicklaus-hosted Memorial Tournament in Dublin, Ohio, and will now caddie for Zach Bauchou in Monday's 36-hole qualifier in nearby Columbus.
With Hovland on his bag, Bauchou was playing at Lakes Golf & Country Club and Brookside Golf & Country Club in a bid to make it through the final stage of U.S. Open qualifying.
Now THAT is a teammate!Not even 24 hours after winning @PGATOUR's @MemorialGolf, Viktor Hovland is back out on Golf's Longest Day caddieing for his former @OSUCowboyGolf roommate Zach Bauchou. pic.twitter.com/SBXgqCVeL6— U.S. Open (USGA) (@usopengolf)
Bauchou and Hovland were teammates on Oklahoma State University's national championship-winning squad in 2018.
Hovland, who finished joint runner-up at last month's PGA Championship, will be making his fifth U.S. Open appearance next week at Los Angeles Country Club.