The Ashes: Stuart Broad 'gutted' for Jack Leach; Moeen Ali return 'hypothetical'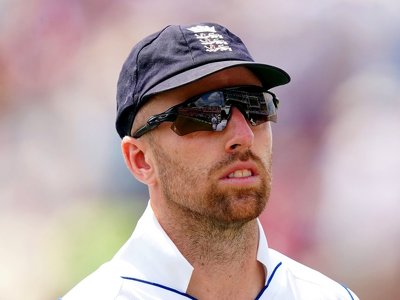 Stuart Broad says he is "gutted" for Jack Leach after the England spinner was ruled out of the men's Ashes due to a lower back stress fracture.
Leach claimed four wickets in England's 10-wicket win over in their one-off Test at Lord's last week, where he bowled 20 overs in Ireland's second innings on Saturday.
A scan on Sunday in London revealed a stress fracture, which will keep him out of the Ashes Test series which gets under way at Edgbaston on Friday June 16 on Sky Sports.
"I'm personally gutted for him. He's such an integral part of the changing room," Broad told Sky Sports News.
"He was a bit sore throughout this Test match, but I don't think any of us had on our radar that it would be a stress fracture on the back.
"I found out [on Sunday evening] through the press release. I messaged him [on Sunday], texting back and forth. I've been in that situation where I've been injured in an Ashes series and it's really heart-breaking.
Please use Chrome browser for a more accessible video player
"He will come back stronger, but he won't be thinking about that right now, he will just need a bit of time to come to terms with it. He will be with us as a group because he's been such an integral part of the last year."
The Ashes 2023: Full schedule for men's and women's series
What cricket is live on Sky Sports
England men's cricket fixtures
Sky Sports Cricket on YouTube
He added: "Sport is such a tough industry. When someone gets injured and someone comes in to replace you, the whole group needs to move on quickly because there's no good focusing on what could have been.
"I wouldn't have a clue who will replace 'Leachy' but I know that whoever does come in will have amazing backing from the group, like every player has done over the past year.
"I said at the end of the last Test match when Josh (Tongue) had taken five wickets, it's a huge compliment to the player coming in to be able to perform, but actually, it's a massive compliment to the group because new players can come in and feel like they can deliver straightaway. We've seen that with Ben Duckett with Harry Brook."
Liam Dawson, Rehan Ahmed and Will Jacks are the leading contenders to replace Leach for Brendon McCullum's England.
An outside possibility would be England all-rounder Moeen Ali coming out of retirement, nearly two years on from his decision to stop playing red-ball cricket.
Asked about the prospect of Moeen making a return, Broad said: "It's hypothetical at the moment. I don't know if that's been a thing or a talking point in particularly.
"We know Mo is a phenomenal cricketer and someone who would fit into Stokes and Baz's philosophy beautifully. I don't know if he's being considered by the selectors or if he would consider red-ball cricket again. But he's a mighty fine cricketer."
Please use Chrome browser for a more accessible video player
David Warner's form will be a major talking point this summer and Broad thinks the Australian, who plans to retire from cricket next year, is someone England always have to be wary of.
"We always have a good battle. There's not many verbals flying between me and him particularly. I think there's a mutual respect with the battles we have had over many years," said Broad.
"He's got the better of me on many occasions and I've got him out a few times. So he's always a pleasure to play against, we are both very competitive cricket players.
Please use Chrome browser for a more accessible video player
"I think every time you turn up and play an opposition you do your research and you concentrate mainly on yourself and what your game plan is on that particular pitch.
"Last time in 2019 I had great success against him but it was at the end of the summer, after a 50-over World Cup, when the pitches were very dry.
"I would imagine it would be a bit different in June and July and in England, so I just have to adapt and see what comes my way but he's a very dangerous player for Australia and has been for his 100 or whatever Test matches."