Lewis Hamilton drops a massive hint about his F1 future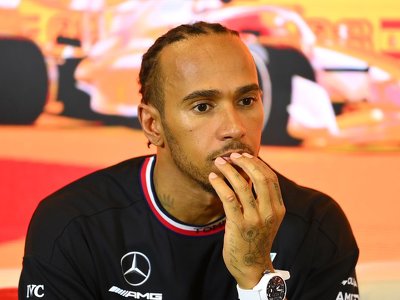 Lewis Hamilton has been driving for Mercedes since the 2013 Formula 1 season. But with his contract set to expire at the end of the 2023 campaign, speculation has grown in recent weeks about his future. There was even a report that Ferrari was set to make a shock offer for his services, hoping to lure him away from Mercedes.
However, in the wake of Hamilton's second-place finish in Sunday's Spanish Grand Prix, the Mercedes driver dropped a pretty big hint about where he will be next season.
In the post-race press conference, Hamilton was addressing the upgrades Mercedes has made to the W14, their challenger for the 2023 campaign. After starting the year with the "zero-pod" design Mercedes brought to the grid last season, the team unveiled a new look for the Monaco Grand Prix, with sidepods similar to those used by Alpine and Williams. The result? A P4/P5 for Hamilton and George Russell in Monaco, and a double-podium in Barcelona.
Asked about the W14, Hamilton had this to say about challenging Max Verstappen and Red Bull:
"So, with the current package we're limited to the pace that we had today, but I think there's a huge amount of work and studying and improvement that we hopefully will have coming in the future. Naturally, they should also be progressing through the year, so we need to be taking big chunks out of them with every step we take. I think today they were a good few tenths ahead of us. Maybe half a second ahead of us per lap – and on a single lap, that's a little bit bigger – but I think we're going in the right direction and I know we have something in the pipeline moving forward, so I'm hoping that at least by the end of the year, maybe we can could challenge them. I'm more focused on making sure next year we have the car to challenge them from day one. And the further we continue to push this car this year, the more that impacts next year also, in some ways. But the more we learn about this car also, that also sets us in the right direction. It's trying to find the right balance. They're so far ahead and ultimately Max will continue to win this year – but that means they can start on their development for next year sooner, earlier than anyone else if they haven't already – and that's the danger. So, we've just got to keep working hard but also try to get the right balance."
The reference to challenging Red Bull "from day one" is what grabbed the attention of those watching near and far, and it led to a follow-up question about whether Hamilton had finalized a deal with Mercedes.
"Well, I haven't signed anything yet but I think we're meeting with Toto tomorrow, so hopefully we can get something done," responded Hamilton.
In the wake of the Ferrari reports, Mercedes Team Principal Toto Wolff expressed his confidence that a deal was going to be finalized between Hamilton and the team. It seems from Hamilton's comments on Sunday that such an agreement could be in the works this week.
"Yeah, it wasn't a subtle hint. We've had so many meetings. It's just another one of the meetings that we're having," added Hamilton later in the press conference. "I'm keeping my glasses on because it's so bright. And yeah, you can see today my results, my performance is not affected by that."
Hamilton then outlined why he remains so committed to Mercedes, even with their performance over the last season-plus.
"It's always something that's at the back of your mind so once that's done, then you're able to then focus more and think about the future, but as I said I'm working as hard as I can with this team and I see so much strength within the team, I think they're still so hungry," said Hamilton.
"On the podium today was really, really, really special to be able to see them in the distance… I saw them at the back, they're always at the back. But to be able to see the excitement in all the people that I've worked with such a long time," he added. "And when we go back right now there'll be a great energy within the office but these guys, they'll take two seconds to enjoy themselves and be happy and then they'll be back down into the books and trying to figure out how we can win the next race so that's what I love about them."