Butler credits Heat's 'don't give a damn factor' in Game 2 win vs. Nuggets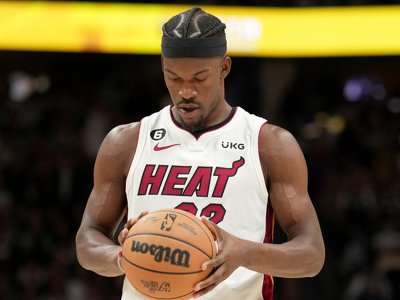 While many were preparing the Heat's obituary after their Game 1 loss to the Nuggets, just three days later, they are feeling confident heading back to South Beach.
Handing the Nuggets their first home loss in the 2023 playoffs with a 111-108 victory in Game 2, the Heat have stolen home-court advantage and evened the series at 1-1.
MORE: Best highlights from Game 2 of Nuggets vs. Heat
After trailing by 15 points in the second quarter and eight heading into the fourth, the Heat turned in a furious rally in the final frame, finding their offensive rhythm as they shot 11-of-16 from the field.
Following the win, Heat star Jimmy Butler, who finished with 21 points, nine assists and four rebounds, credited the team's resilience in the face of a 2-0 deficit.
"I just think nobody cares on our team. We're not worried about what anybody thinks," Butler said. "We're so focused in on what we do well and who we are as a group, that at the end of the day, that's what we fall back on.
"Make or miss shots, we're gonna be who we are, because we're not worried about anybody else. It's how it's been all year long, and that's not going to change. That's what I think it is. It's the 'I don't give a damn' factor."
What sets the @MiamiHEAT apart from other teams?"I think it's the 'I-don't-give-a-damn' factor"- Jimmy Butler pic.twitter.com/Z2cB9huLg6— CBS Sports (@CBSSports)
MORE: Malone, Murray rip Nuggets' lack of effort, discipline in Game 2
Gabe Vincent, who scored a team-high 23 points on 8-of-12 shooting in the win, echoed those sentiments during a postgame interview on NBA TV.
"I speak for my whole team when I say we don't give a damn," Vincent told Shaquille O'Neal when asked about the Heat's underdog status. "We just want to get four wins. We don't give a damn about none of the other stuff."
.@SHAQ: "Are you guys a little upset that you're not getting the respect that you deserve?"Gabe Vincent: "I speak for my whole team when I say we don't give a damn. We just want to get four wins." pic.twitter.com/Q1PuXsSZ7h— NBA TV (@NBATV)
Game 3 is set to tip off at 8:30 p.m. ET on Wednesday, June 7.