Spoelstra hits back at Jokic 'scorer vs. playmaker' narrative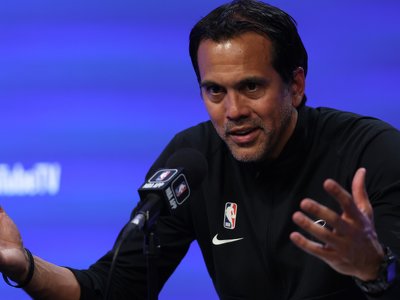 After Nikola Jokic carved the Miami Heat's defense to pieces in Game 1, dishing out 14 assists to go with 27 points and 10 rebounds, Miami took a different approach to Game 2, inserting Kevin Love into the starting lineup to add more size to their frontcourt.
While the move didn't seem to slow down Jokic's scoring, finishing with 41 points and 11 rebounds, his playmaking was curbed as he managed just four assists on the night — his fewest in a game in the postseason.
Compared to the six he handed out in the first quarter of Game 1 before even attempting a field goal, Jokic turned scorer as the Heat opted for single-man coverage as opposed to sending help.
MORE: Malone, Murray rip Nuggets for lack of effort, discipline in Game 2 loss
ESPN reporter Ramona Shelburne asked Erik Spoelstra postgame if that was the team's plan going into Game 2, but the Heat coach cut the question short, appearing frustrated by the narrative, instead heaping praise on Jokic's versatility.
"That's a ridiculous ... That's the untrained eye that says something like that," Spoelstra said.
"This guy is an incredible player. Twice in two seasons he's been the best player on this planet. You can't just say, 'Oh, make him a scorer.' That's not how they play."
Erik Spoelstra shut down Ramona Shelburne's question about turning Jokic into a scorer or a passer quickly pic.twitter.com/PxcWQNN5w4— CJ Fogler account may or may not be notable (@cjzero)
Despite Spoelstra's comments, there is some truth to the notion of letting Jokic score and forcing his teammates to create their own scoring opportunities.
The Nuggets are 0-3 in the playoffs in games Jokic has scored 40+ points, 4-4 when he scores 30 or more, and 9-0 when he scores below 30.
Miami often leans on its zone defense, however, Jokic is perhaps the best zone-busting player in the league, with his vision and playmaking as the fulcrum of the Nuggets' offense, creating open looks for his teammates.
Jokic, however, wasn't fazed by any schematic changes in Game 2.
Jokic on only having four assists in Game 2 pic.twitter.com/yFSfpHe2jl— Ryan Kaufman (@GingerlyTweets)
"To be honest, I don't know the answer," he said postgame when asked about his low assist numbers.
"I was just playing, I don't think when I'm playing about stats or whatever."
As the series moves forward, the chess match between the two teams will only intensify as the Nuggets now go to Miami looking to regain their home-court advantage.
Game 3 is set for Wednesday, June 7 in Miami, with tip-off set for 8:30 p.m. ET.