Member of Erik Jones' pit crew injured on pit road during Enjoy Illinois 300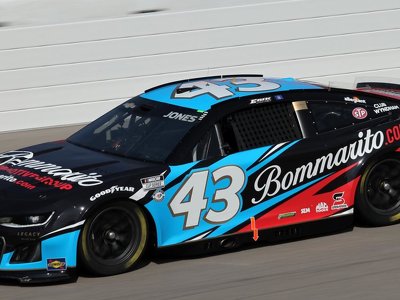 A member of Erik Jones' pit crew was hospitalized Sunday after taking a "head-on" shot from a fellow crew member while Jones' No. 43 car was on pit road late in the Enjoy Illinois 300.
Thomas Hatcher, the front tire changer for Jones' team, collided with the tire carrier when Jones pitted on Lap 180. Per PRN, Hatcher was "out" for a few moments after the collision. He eventually was placed on a stretcher and into an ambulance.
Erik Jones' team says they plan on coming back down pit road and changing left-side tires."He's awake. He was out," the team says about the crew member.Sounds like a tire changer got hit on pit road, according to them.— PRN (@PRNlive)
Hatcher was taken to a local hospital, with FS1's Mike Joy reporting during the broadcast he was "awake and alert." He received a CT scan at the hospital; the results from that test have not been disclosed.
Just heard an update from the fueler of the No. 43 team on Thomas Hatcher:"He's doing well, he's alert, he's waiting for the results of CT scans."#NASCAR #EnjoyIllinois300— Stephen Stumpf (@stephen_stumpf)
Joe Gibbs Racing's Christopher Bell was among the legions of well-wishers to send their support to Hatcher after the race.
Heard about what happened to Thomas Hatcher on pit road today. Sending my prayers for a full and speedy recovery.— Christopher Bell (@CBellRacing)
23XI Racing offered material aid to Jones' team. With Tyler Reddick's day done after a Stage 3 crash, the No. 45 team sent front tire changer Houston Stamper to help the Legacy Motor Club team finish the race. Jones ended the day in 18th place. Kyle Busch won the race.
MORE: Kyle Busch grabs third Cup Series win of season at St. Louis
Jones told Fox Sports' Bob Pockrass after the race that he didn't get a good look at what happened to Hatcher.
"Thinking about Hatcher and his family," Jones said. "Hoping to talk to him soon."
Erik Jones said he hopes to talk to his front tire changer Thomas Hatcher soon. Jones said it all happened so fast, he isn't sure what happened in the incident.Hatcher was awake and alert and taken to the hospital for further observation and treatment. pic.twitter.com/dyZu3HN1A8— Bob Pockrass (@bobpockrass)
Fox Sports erroneously reported that Hatcher was struck by the No. 3 car of Austin Dillon. The network later said it reviewed video of the injury to determine what had happened.