Block cards 81 at Colonial; saves par from bridge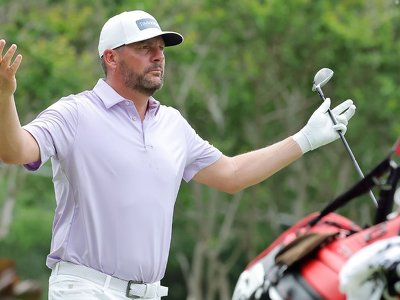 California club pro Michael Block was living the dream at the PGA Championship. Thursday at Colonial brought him back to reality.
A sensation at Oak Hill when he tied for 15th against the strongest field in golf, Block shot an 11-over 81 that left him in last place and 19 shots behind Harry Hall in the Charles Schwab Challenge in Fort Worth, Texas.
Block received a sponsor exemption -- he has one for the RBC Canadian Open next week, too -- after his amazing week at the PGA Championship. He was on "SportsCenter," received a text from Michael Jordan and signed with WME Sports.
But things were wayward from the start Thursday.
He bogeyed four of his first five holes, and closed with double-bogeys on three of his last four.
There were highlights, though.
On the par-4 10th, he watched his drive go way right and settle on a cart path bridge. "Worst tee shots I've ever hit in my life are today," he said as the ball flew through the air, one of seven fairways he missed.
But Block hit wedge over a tree from the path to the front side of the green and got up and down for a wild par save -- one of just six in his round.
"If you are a golfer, you've had the day I've had," Block said after his worst score by seven shots in the four PGA Tour-level events he has played this year. "You understand the facts of where the lies aren't good and the trees are in your way every time. Even your good shots are bad, your bad shots are worse.
"It is what it is. I'm going to live with it. I thought it was going to happen that third or fourth round last week at Oak Hill, and it never happened. It happened now, and I wasn't surprised by it, to tell you the truth."
Block has been on quite a ride the last six days. He made the cut at the PGA Championship and played with Justin Rose on Saturday and Rory McIlroy on Sunday. The 46-year-old head pro at Trabuco Arroyo in Mission Hills, California, turned in a performance as memorable as Brooks Koepka winning his fifth major.
He made a hole-in-one on the 15th hole, and his closing from deep rough gave him a tie for 15th and an automatic spot in next year's PGA Championship.
And then he came crashing back to earth after a week so busy he only saw Colonial one time before Thursday. But he wasn't giving up just yet.
"I'm looking forward to coming out tomorrow and playing a great round and giving it everything I have," he said. "I've shot 58, and I've shot a 59 in my life, and since what I had today, I wouldn't be surprised if I did it. So if I do, cool. If not, I'll be seeing my kids and my wife tomorrow night in Orange County, California. It's all good one way or the other."
Information from The Associated Press was used in this report.