Lowe: Did Boston actually figure something out in Game 4?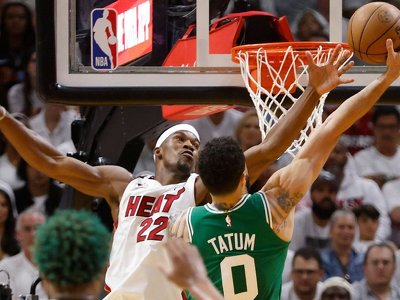 At some point, it will happen. An NBA team will lose the first three games of a playoff series and win the next four. Such teams are 0-150, but someone sometime will do it.
On paper -- and paper buys you precisely zero wins -- the Boston Celtics are the best candidate in history to pull off the improbable. Most teams who fall behind 3-0 are huge underdogs in the first place. Only nine prior top-two seeds have ever trailed a series 3-0 to a team seeded No. 3 or worse, according to the gurus at ESPN Stats & Information. The Celtics might be the strongest of those 10 top-two teams to fall so far behind; they are the only one to finish No. 1 or No. 2 in both points scored and allowed per 100 possessions in the regular season.
The Miami Heat have the worst résumé of the lower-seeded teams who seized 3-0 leads over those 10 teams. They are the only one with a negative regular-season point differential. At No. 8, they are the lowest seed to go up 3-0 on a top-2 seed, per ESPN Stats & Information. The previous "worst seed" to snare such a lead: the 1994-95 Houston Rockets, who won the first three games of the NBA Finals over the Orlando Magic -- the East's No. 1 seed -- and completed the sweep. Those Rockets were an atypical No. 6 seed; they were defending champions, and reinvigorated their season with a mega-deal for Clyde Drexler.
Most of the other series in this sample were either clashes of equals (conference semifinals between No. 2 and 3 seeds) or series in which the nominal lower seed was the better team and favorite: the 2001-02 Los Angeles Lakers facing the No. 1-seeded New Jersey Nets in the Finals, and the 2017-18 Cleveland Cavaliers (LeBron James' last Cleveland team) upending the No. 1-seeded Toronto Raptors.
These Heat shoving the Celtics to the brink so fast (and so rudely) marks an anomaly. If you asked a computer to simulate the perfect circumstances for the first 3-0 comeback, it would produce something like this.
The Heat care about none of this. They would smash the computer with a sledgehammer and use your paper for kindling. They have navigated this entire postseason without fear, tentativeness or any outward nervousness. They do what they do and force you to beat them. Their scorching 3-point shooting is at least partly a correction after their chilly regular season. It is an exuberant overcorrection -- the Heat's 8-of-32 clunker in Game 4 was a return to mortality -- but Miami's true shooting level lies somewhere between their 34.4% mark in the regular season (27th overall) and whatever has possessed them in every series but their rock fight against the New York Knicks.
The Celtics can manipulate Miami into uncomfortable matchups -- they were more diligent about that in saving their season in Game 4 -- but you would be hard-pressed to find more than two or three outright bad Heat defensive breakdowns in any game. On offense, the Heat play every possession with purpose and urgency -- cutting, screening and moving with a targeted ferocity that has wobbled Boston onto its back foot.
Boston rarely holds such focus for full games. At some point, inconsistency is no longer some maddening habit holding you back from becoming what you should be. It is who you are. To beat Miami three more times in succession, the Celtics need to play with constant focus and fury they have not shown since blowing out the Atlanta Hawks in the first two games of the playoffs. The Heat allow for nothing less.
Falling behind 3-0 -- frittering away late possessions in Games 1 and 2 -- removed any margin for error or outlier performances. The Celtics might be the "better team" on paper. They may have generated superior "shot quality" over the series. None of that matters. You get no credit for it. The Heat have three wins, Boston has one. If Max Strus hits 7 3s, you're done. If Jayson Tatum goes 4-of-20, you're done. There is no shot quality trophy.
After a shaky first few minutes in which they lost touch with Miami's shooters -- and were fortunate to watch those shooters miss -- Boston gave a mostly clean defensive performance in Game 4. There were few miscommunications, botched switches, missed assignments. They kept up with Miami's whir of off-ball cuts. And most intriguingly, they closed with Derrick White on the bench -- riding bigger lineups featuring Grant Williams alongside Al Horford and (for most of the fourth quarter) Robert Williams III.
White is an elite defender against most teams, but something below that in the face of Jimmy Butler's unrelenting physicality. (Miami has also been smart changing up its movement and spacing around Butler isolations. Erik Spoelstra and his staff are as good as it gets.) With White out, Butler suddenly had no one to bully. The Heat's offense lost one tentpole. For the first time, you felt the void where Tyler Herro would be.
The Heat have not missed Herro much. He is vulnerable on defense. With him, the Heat play some lineups with two weak spots for offenses to peck at. Without him, several core lineups feature no such players. Herro's supplementary offense is less valuable when Butler ups his usage to gargantuan levels.
Grant Williams is 7-of-11 on 3s after being benched in Game 1, and has added heft on defense without taking away from Boston's playmaking and shooting. His disappearance was bizarre. He is borderline indispensable again.
Joe Mazzulla faces some fascinating lineup choices in Game 5; the answers are less obvious for Boston than for some teams. The Celtics' small-ball starters -- White, Marcus Smart, Jaylen Brown, Jayson Tatum, Horford -- are plus-9 for the series, but that group gives Butler the White matchup and sometimes plays only East-West perimeter basketball on offense.
Thursday, June 1Game 1: 8:30 p.m.
Sunday, June 4Game 2: 8 p.m.
Wednesday, June 7Game 3: 8:30 p.m.
Friday, June 9Game 4: 8:30 p.m.
*All times Eastern
More: Playoff schedule, news, more
Even after Game 4, all double-big combinations of Grant Williams, Robert Williams and Horford have negative point differentials for the series; the Celtics are minus-30 with Robert Williams on the floor, second worst on the team. Boston is a hideous minus-40 with Brown on the floor; the Heat are obliterating them in the minutes Brown plays without Tatum, per data from Cleaning The Glass.
These are teensy and maybe meaningless samples. (Robert Williams' ugly plus-minus doesn't quite match the eye test, though his defense has been scattershot in open space and when switched onto Butler. He seems to get steadier within each game.) There are times and spots for all these lineup types. Maybe the Celtics are figuring that out. Matching Robert Williams' minutes with Cody Zeller seems to be working, since Williams can play more of a rover role there; Miami is plus-41 with Bam Adebayo on the floor and minus-19 in 56 minutes with him on the bench. When Tatum rests, maybe the Celtics should put maximum shooting and playmaking around Brown -- meaning Horford at center.
Robert Williams' screening and the threat he poses as a marauding lob catcher ignited some of Boston's best passing sequences in Game 4 -- easily its best passing game of the series. The Celtics showed a renewed emphasis on stringing together quick, simple reads instead of over-dribbling and searching out the pass that might become an assist.
The Celtics knew Miami would blitz Tatum-Robert Williams pick-and-rolls -- hounding Tatum with two defenders. That leaves three Heat players defending four Celtics behind the ball -- Williams rampaging toward the paint and three shooters around him.
Here's what can happen when Tatum forces the action, driving into the teeth of that blitz and lofting thread-the-needle interior passes:
Tatum has lobbed some lollipops to Robert Williams in these situations. The Heat have come close to intercepting some of them. Those that arrive leave Williams in a tricky situation, pivoting into quick playmaking mode amid heavy traffic.
For most of Game 4, Tatum (and other Boston ball handlers) got rid of the ball earlier, snapping easier passes to release valves positioned in the near corners or high on the wing:
That is (fittingly) how the Heat play at their best. It is almost passing for the sake of passing: Get everyone moving and invigorated, see if the passes and drives cascade and widen a small crack in the defense into a glaring fissure. Force the defense to parse several rapid-fire decisions, and you increase the chances it might make a mistake -- one blip of hesitation or false half-side that can make the difference between a dead possession and a dunk.
The Celtics slotted those release valves in places where their lead ball handlers could see them. Tatum whipped those passes right away after using screens:
The hope there is that Robert Williams sprinting ahead of Adebayo will puncture the Heat's defense -- that Brown, upon receiving that instant swing pass, will have an easy bang-bang dish to Williams for a dunk, or that the Heat in snuffing that will have exposed an open 3-pointer elsewhere.
The Heat concede nothing there. They have been on point in rotation this entire series -- shifting enough to make you reconsider every pass, but never so far as to reveal anything profitable. The highest compliment you can give Miami's defense is that it foists indecision upon opponents: Oh, that pass is open! Uh oh, maybe it's not. That mean-looking dude just flashed into the passing lane. But if that's covered, someone must be open over there! Oh, no. I've waited too long.
But Miami's impenetrability does not stop Boston on this possession. Brown and Grant Williams pitch the ball back and forth, settling into a snappy two-man game that gives Brown the Strus matchup and attracts enough help to unlock that Grant Williams 3.
This is the height of NBA basketball -- a dialed-in, unselfish offense trying to move the ball ahead of a defense equal to the task:
Smart looks as if he's going to set a back screen for Robert Williams as Part II of this