Gabriel Jesus nets two as Arsenal roll to latest win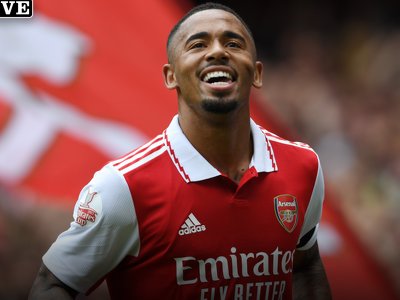 Arsenal's lead at the top of the Premier League is back up to eight points after a 4-1 thrashing of Leeds United, as star forward Gabriel Jesus scored two goals on his first Premier League start since November after a lengthy comeback from knee surgery.
Second-place Manchester City, who still have a game in hand on the Gunners, won their league match against Liverpool by the same scoreline earlier on the same day, and Arsenal's response leaves the table just as it was before the weekend. But the season has one less game: There are just nine matches left for Arsenal and 10 for Man City.
Despite the 4-1 scoreline, it wasn't all smooth sailing for the Gunners, who uncharacteristically laboured in the first half against a Leeds team that was organised defensively and looked dangerous in transition.
The fit-again Jesus proved to be the catalyst when he came up with a solo dribbling run in the box to earn a penalty, which he stepped up to convert it. The play gave his team the relief of a breakthrough heading into halftime against the run of play.
Goals: ARS — Gabriel Jesus (penalty) — 35th min.ARS — Ben White (Gabriel Martinelli) — 47th min.ARS — Gabriel Jesus (Leandro Trossard) — 55th min.LEE — Rasmus Kristensen (Jack Harrison) — 76th min.ARS — Granit Xhaka (Martin Odegaard) — 84th min.
After the break, Arsenal put their foot on the pedal. Right-back Ben White scored two minutes after the restart by pouncing on a far-post cross, Jesus added his second on a give-and-go with Leandro Trossard, and Granit Xhaka headed home easily following a ghosting run into the box.
Rasmus Kristensen briefly made it 3-1 but Leeds lie 16th, just a point above the relegation zone.
Arsenal, having won a seventh straight league match, will now look ahead to their next league match on Sunday, April 9 at Liverpool, while Man City have what on paper looks like an easier trip to last-place Southampton.
MORE: Updated Premier League table 2022/23
Lineups:
Arsenal (4-3-3, right to left): 1-Ramsdale (GK) — 4-White, 16-Holding, 6-Gabriel, 35-Zinchenko (3-Tierney, 85') — 8-Odegaard (10-Smith Rowe, 85'), 5-Partey (20-Jorginho, 60'), 34-Xhaka (21-Vieira, 85') — 19-Trossard, 9-Jesus (7-Saka, 60'), 11-Martinelli
Leeds (4-2-3-1, right to left): 1-Meslier (GK) — 2-Ayling, 5-Koch (6-Cooper, 74'), 21-Struijk, 3-Firpo — 25-Kristensen, 8-Roca — 7-Aaronson (28-McKennie, 65'), 10-Summerville (24-Rutter, 74'), 11-Harrison — 23-Sinisterra (19-Rodrigo, 65')
Before the match Mikel Arteta noted how much his team missed the "chaos" that Gabriel Jesus causes opponents with his movement and his energy. And sensing the difficult moment for his club, Jesus took it upon himself to go on a dribbling run that drew the penalty which set the Gunners on their way.
His second goal came on a run we saw him make so often before his injury: He came deep for the ball, and then initiated the give-and-go combination play into the box. When the ball winds up at his feet in the box, his quickfire instincts take care of the rest. The fact that Arsenal performed as well as they did without him is a credit to Arteta.
With seven assists in his last six matches, it's clear that Leandro Trossard needs to stay on the field. Gabriel Martinelli owns the left wing and Bukayo Saka when healthy — he was under the weather and missed practice the day before — is a fixture in the lineup. So who's the odd man out with Gabriel Jesus back? Does Trossard have to become the super-sub when things aren't going quite as well as they should be? Arteta is facing some big decisions.
Arsenal have accustomed their fans to fast starts this season, especially at home. But that same verve, drive, and energy were absent during the first half against Leeds. The Gunners looked like an average team for stretches when they were forced to operate at a slower pace.
Similar lapses will cost them dearly with the quality of opponents remaining on their schedule. Liverpool, Man City, Chelsea, and Newcastle are four of their next six opponents. While the eight-point lead looks good now with nine games to play, Man City's game in hand means that Arsenal are just one or two bad slip-ups away from a heartbreaking finish. A half like the first against Leeds could prove the difference in those matchups.
FT: Arsenal 4-1 LeedsxG: 3.41-0.78Shots: 13-7Shots on target: 6-5Possession: 66.9%-33.1%Corners: 4-3Another three points for the Gunners. 🔴 pic.twitter.com/jCYmN1OzoJ— Squawka Live (@Squawka_Live)
86th min.: SUBS Arsenal. And now with the game over, the rest of the subs come on. Vieira for Xhaka, Tierney (for Zinchenko), and Emile Smith Rowe also on.
84th min.: Goal Arsenal! Beautiful delivery into the box by Martin Odegaard and Granit Xhaka, who pushed into the box, heads it home. It was too easy. He just ghosted past all the Leeds defenders.
Odegaard is brilliant pic.twitter.com/Y5rKDhM0jU— Renato (@rehnato)
83rd min.: One more goal and Leeds could be in this. But they don't look like they have what it takes. The subs have offered very little.
76th min.: Goal Leeds! Arsenal let their guard down and it's too easy for Leeds to get into the Arsenal box and Harrison dishes to Kristensen, who places a shot on goal which takes a deflection on its way in.
74th min.: SUBS Leeds. Two more subs as Liam Cooper (for Robin Koch) and Georginio Rutter (for Crysencio Summerville) come on.
65th min.: SUBS Leeds. It's Rodrygo and Weston McKennie getting a run out in place of Luis Sinisterra and Brenden Aaronson.
60th min.: SUBS Arsenal. Jorginho and Bukayo Saka are on to replace Thomas Partey and Gabriel Jesus with the result in the bag.
Arsenal came out with more intensity, they put the game away and now they can manage the rest of the way. Leeds don't have a reaction in them from the looks of it.
55th min.: Goal Arsenal! Gabriel Jesus and Leandro Trossard with a give-and-go move. And Jesus gets it back at the top of the six-yard box and bangs it home. Game over.
Watch in USA:
Gabriel Jesus has a brace and look at how much it means! ❤️📺: @USANetwork #MyPLMorning | #ARSLEE pic.twitter.com/CfIEo2RduA— NBC Sports Soccer (@NBCSportsSoccer)
47th min.: Goal Arsenal! Perfect start to the second half for the Gunners. Gabriel Martinelli with the driven cross from the left and Ben White was crashing the far right post, sending it off the crossbar and in.
BEN WHITEEEEE 2-0 ARSENAL pic.twitter.com/KRtTeGhw63— Renato (@rehnato)
Ben White second Arsenal goal makes it 2-0 Leeds United pic.twitter.com/juLWe3kDeK— Egal (@EGTVEgal)
46th min.: Second half is underway and there are no changes from either side.
Halftime: This is one of those games for Arsenal. Far from their best. The ball movement and the player runs were slow. No buzzing attacks, no quick combinations, barely a shot on goal. They didn't seem up for it today.
Leeds could've done better with the chances they created — Crysencio Summerville was causing problems with his transition runs — but then the visitors proceed to gift the opening goal to Arsenal. That Luke Ayling high boot on Gabriel Jesus was unnecessary and reckless. He was asking for trouble.
But credit Gabriel Jesus for realising his team was in trouble and then trying to create havoc on his own in the box to draw the penalty.
45th min.: YELLOW card to Leeds defender Robin Koch who stamps on Gabriel Martinelli to bring him down. Three minutes of stoppage time.
pic.twitter.com/nEqr4EAPus— Don Draper (@arsenalbarclays)
41st min.: Chance Arsenal! Leeds 'keeper Illan Meslier comes off his line to clear on an Arsenal counter, but the ball winds up at the feet of Gabriel Martinelli who sent the ball on an empty net. Luke Ayling saves the day for Leeds and clears.
35th min.: Goal Arsenal! Gabriel Jesus takes it and goes right down the middle. The Gunners don't deserve the lead, but they'll take it. That's Jesus's first goal since October 2022.
Watch in USA:
For the first time since October, Gabriel Jesus scores and Arsenal are in the lead!📺: @USANetwork #MyPLMorning | #ARSLEE pic.twitter.com/gesnJfk1ta— NBC Sports Soccer (@NBCSportsSoccer)
Watch in Canada:
Gabriel Jesus SCORES!!⚽ 1 - 0 Arsenal FC vs Leeds UnitedWATCH EVERY GOAL 👉 https://t.co/2w98QqBb5v#PL #PremierLeague pic.twitter.com/66WAFG7Sja— fuboTVCanada 🇨🇦 (@fuboTVCanada)
Watch in Australia:
Penalty won by Gabriel Jesus; penalty converted by Gabriel Jesus 💥Arsenal take the lead against Leeds and you can hear what it means to the Gunners faithful! 🙌Stream #PLGoalRush LIVE, or on demand after, here 📺 https://t.co/4r1u2ysWKS#OptusSport #PL pic.twitter.com/AACCpuDZje— Optus Sport (@OptusSport)
Gabriel Jesus hasn't started a game for Arsenal since the 12th November 2022.Back with a bang. 💥 pic.twitter.com/1sJTkb8JRD— Squawka Live (@Squawka_Live)
32nd min.: Penalty Arsenal! Leeds right-back Luke Ayling with a boot into the knee of Gabriel Jesus, who was making a dribbling move past him in the box. Clumsy decision by Ayling who was on the ground and beat.
And the penalty comes moments after Leeds attacker Jack Harrison gets another shot on goal, which Ramsdale had to stop.
Not sure how anyone can quibble with the decision:
You can't be serious 😂😂😂😂😂😂😂😂💀💀💀💀💀💀💀💀💀💀💀 pic.twitter.com/UNISoLLKtT— Tom Levins (@TomLevins1)
30th min.: Chance Leeds! Again it's the visitors with the more incisive attacks. Crysencio Summerville combines with Marc Roca at the edge of the Arsenal box and gets a shot off, but Aaron Ramsdale is alert to make the save.
30th min.: Injured Arsenal centre-back William Saliba (back), is watching an uninspired performance from his team. Gabriel Jesus's insertion in the starting lineup surprisingly hasn't brought any sort of spark.
And Gunners supporters are trying to lift their team "C'mon Arsenal, C'mon Arsenal."
William Saliba in attendance to support his team-mates at the Emirates Stadium today. [@arsenalbarclays] #afc pic.twitter.com/SbhN4Zpz6k— afcstuff (@afcstuff)
22nd min.: Chance Leeds! The visitors don't waste time going upfield. Crysencio Summerville driv