Who will be crowned Premier League Player of the Year?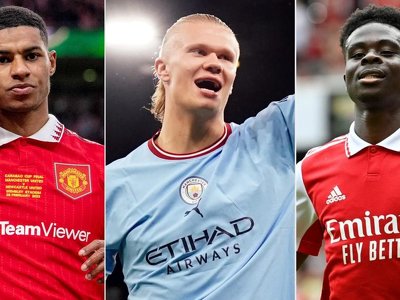 The final weeks of the 2022/23 Premier League season will see a tight title battle between defending champions Manchester City and current leaders Arsenal.
Players from both sides have impressed throughout the campaign with goals and match-winning performances driving them on towards an end of season showdown.
However, alongside the battle on the pitch, stars from both teams will also fight it out for individual awards in the coming weeks, including the Premier League Player of the Year Award.
The expected shortlist includes four players who have never won the award before including red-hot favourite Erling Haaland following an incredible first season in English football.
MORE: Erling Haaland injury update
The Premier League Player of the Year award runs alongside two other major individual awards given to Premier League stars in the final weeks of a season.
The prestigious PFA Player of the Year Award is decided by Premier League players, through their membership of the Professional Footballers' Association (PFA),with the FWA Player of the Year Award voted for by over 400 journalists via the Football Writers' Association (FWA).
The Premier League Player of the Year Award is solely focused around the Premier League, with its first award coming in 1994/95 following the third Premier League campaign.
It is voted for by a selected panel, picked by the Premier League, involving football's governing bodies, the media and fans.
Haaland's goals in 2022/23 have been nothing short of sensational as the Norwegian international looks to break the Premier League Golden Boot record with Pep Guardiola's side.
However, Mikel Arteta's Gunners will be looking to keep them at bay in the run-in, with captain Martin Odegaard and wing wizard Bukayo Saka in superb form in 2023.
*Odds and statistics via Skybet, and correct as of March 31, 2023.
Haaland's start to Premier League life has been incredible in 2022/23 with the 22-year-old wreaking havoc on defences and scoring goals for fun.
Despite the expectation surrounding his arrival from Borussia Dortmund, the Norwegian has relished the challenge and he could break the Premier League goal record this season.
Andrew Cole and Alan Shearer scored 34 Premier League each for Newcastle United (1993/94) and Blackburn Rovers (1994/95) in the old 42-game Premier League season format.
Mo Salah's 32 goals in 2017/18 is the highest tally in the 38-game era, with Haaland closing in on all three records, and potentially a string of other awards.
Erling Haaland is three goals away from breaking yet another record 🤯 pic.twitter.com/6aoSDHNrmW— B/R Football (@brfootball)
The two favourites to win the Premier League Player of the Year Award in 2023 are both Norwegian as Haaland's international teammate Odegaard looks to drive Arsenal over the line in the title race.
The former Real Madrid playmaker has seen his career transformed at the Emirates Stadium, adding leadership and experience, to his impressive ability to dictate games from midfield and score crucial goals.
Whilst Haaland is the favourite to win the award, Odegaard's role at Arsenal cannot be understated, as the perfect example of Arteta's revolution in North London.
💪 Martin Odegaard has won possession in the attacking third (40) at least 9 more times than any other player in Europe's Top 5 Leagues this season pic.twitter.com/3o42DM2JjZ— WhoScored.com (@WhoScored)
Odegaard's Arsenal teammate Saka is also in the running against Haaland with the Arsenal fan favourite enjoying another brilliant campaign for the Gunners.
Saka was ever present for Arsenal last season, featuring in all 38 Premier League matches, and he is on course for another uninterrupted campaign in 2022/23.
The England international has stepped up another level in recent months, becoming one of the deadliest wide forwards in the Premier League, with his greater experience continuing to shine through with crucial goals against Liverpool, Manchester United and Man City this season.
🗣️ "First advice to Arsenal is to make sure Bukayo Saka signs for 10 years."Arsenal invincible Kolo Touré has called on his former side to lock down their star man Bukayo Saka for a very long time! 🔐✍️ pic.twitter.com/mGSR4OPppu— Football Daily (@footballdaily)
Haaland's incredible goal scoring exploits have left other Premier League hotshots in the shadows, but Rashford's 2022/23 campaign has been a turning point for the Manchester United forward, with an incredible return to form.
With 27 goals across all competitions, Rashford has already surpassed his previous overall season best tallies, and he will be looking to at least break the 20+ mark in the Premier League.
Erik ten Hag has laid solid foundations at United in 2022/23, but Rashford has been their shining star in attack, with the 25-year-old seamlessly stepping up after Cristiano Ronaldo's exit.
🔴 Just Marcus Rashford things... ☄️@MarcusRashford || @ManUtd || #UEL pic.twitter.com/uMizj9B5sG— UEFA Europa League (@EuropaLeague)
Only four players have won the Premier League Player of the Year more than once, with Thierry Henry, Ronaldo, Nemanja Vidic and Kevin De Bruyne scooping the award twice each.
City have dominated the award in recent years, with De Bruyne's double either side of Ruben Dias winning it in 2021, with Henry the last Arsenal recipient in 2004.