Why Donovan Clingan should return to UConn next year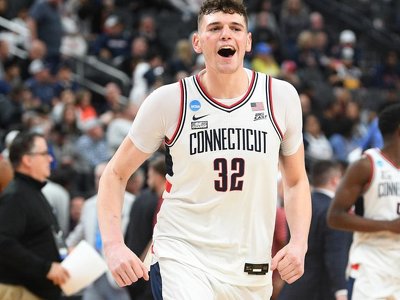 UConn is back in the Final Four for the first time since 2014 when it won its last national championship.
The Huskies have completely dominated their opponents in the NCAA Tournament, winning four games by an average margin of 22.5 points.
Their offense deserves a lot of credit, with sharpshooter Jordan Hawkins and playmaker Andre Jackson Jr. leading the charge. Their defense deserves even more credit, only allowing 59.3 points behind a backline of junior center Adama Sanogo and freshman center Donovan Clingan.
UConn's frontcourt tandem may stick out because not many teams can replace a physical big like Sanogo with a 7-footer off the bench like Clingan. Clingan has been a reliable backup for the Huskies all season, averaging 7.1 points, 5.7 rebounds and 1.8 blocks in just 13.1 minutes per game.
Is the freshman big man a candidate for the NBA Draft in 2023? The Sporting News takes a deeper dive into his prospect profile.
TSN's MARCH MADNESS HQLive NCAA bracket | TV schedule | Predictor tool
Clingan has made the most of his limited playing time behind Sanogo on the defensive end. His per 40 numbers of 21.4 points, 17.2 rebounds and 5.6 blocks per game are outrageous, further proving how productive he has been whenever head coach Dan Hurley calls his number.
Clingan is a towering rim protector and backline intimidator, standing at 7-2 with a reported 7-7 wingspan. Because he's 265 pounds, he can absorb contact and still come up with blocks. He is an elite shot blocker who already understands that he rarely needs to leave his feet to swat or alter shot attempts.
His sheer size often prevents attackers from even attempting a shot on drives. There have been several instances this tournament where scoring threats will get into the paint, see Clingan lurking and decide to kick out. When they do try and put a shot up, Clingan will use his length and impressive timing to send shots packing.
Clingan is so big that doesn't even have to be the primary defender to block a shot. He's a lifeline for his perimeter defenders, rotating over from the help side to extend his arms and deter shots over his own teammates.
He's an intelligent defender, constantly putting himself in the right positions to come up with stops.
Clingan moves well for his size, hustling up the court for easy looks at the basket in transition. Essentially all of his offense comes right at the rim, be it as a roller, lob threat or last-second outlet on his teammates' drives.
The tools are there for Clingan to develop into a dominant rim protector and rim runner at UConn next season if he sticks around.
Nearly all of Clingan's points come from lobs, layups and dunks in transition, putbacks off of offensive rebounds or passes served on a silver platter. Aside from a one-dribble drop step, Clingan isn't much of a post-scoring threat — not yet, anyway.
According to InStat, Clingan only attempted five shots outside of the paint this season and he missed all five. Pair that with his 52.3 percent shooting from the free throw line and you wouldn't think he has much potential as a shooter, but Clingan does have surprisingly smooth mechanics. It would only help his case as an NBA prospect if he can start to knock down outside shots every now and then.
Even though Clingan is mobile, continuing to work on his lateral quickness will be vital for constant pick-and-roll coverage at the next level.
He's been great for UConn in short spurts this season. It will be interesting to see if he can maintain the same level of production in a bigger role.
Mock Draft projection: First-rounder in 2024
If Clingan were to leave UConn after his freshman season, I could see a team taking a swing on the 19-year-old 7-footer in the second round. If he sticks around for another year, he could easily work his way into first-round discussions in the 2024 NBA Draft.
Plays like: Walker Kessler
Clingan's situation reminds me a lot of Kessler, who didn't play much as a freshman at North Carolina, decided to stay in college for an extra year, transferred to Auburn and turned into the SEC Defensive Player of the Year.
Clingan should use Kessler as a blueprint for success as the 7-2 center has a similar ability to intimidate attackers and protect the rim. If he stays another year at UConn, Clingan will certainly work his way into the Big East Defensive Player of the Year conversation, increasing his draft stock in the process.