Revisiting Jim Larranaga's miracle Final Four run at George Mason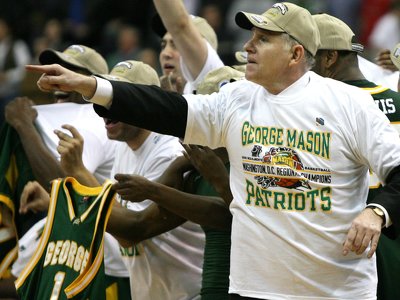 Only one coach from this year's unusual grouping of Final Four teams has been on this stage before: Miami's Jim Larranaga.
While the Hurricanes' run to the Final Four certainly qualifies as surprising, Larranaga's first run was downright stunning. He led No. 11 seed George Mason to the Final Four in 2006, making the Patriots one of college basketball's all-time great Cinderella stories.
It was only fitting that Miami secured its first-ever Final Four bid on the same day Larranaga took George Mason to the promised land 17 years earlier.
TSN's MARCH MADNESS HQLive NCAA bracket | TV schedule | Predictor tool
Here's a look back at George Mason's unbelievable run that first put the national spotlight on Larranaga.
George Mason was one of the final teams to earn an at-large bid to the 2006 NCAA Tournament after entering Selection Sunday 23-7. The Patriots finished second in the Colonial Athletic Association and fell to Hofstra in their conference tournament.
After the loss to Hofstra, the Patriots simply decided to stop losing. They rattled off three upset wins in four games, the latter of which was a stunner that still ranks among the all-time great Elite Eight upsets.
George Mason first took down No. 6 Michigan State with a 75-65 first round win, and the Patriots threw the tournament off course by knocking off No. 3 North Carolina in the second round.
George Mason played well enough to actually enter the Sweet 16 favored against No. 7 Wichita State. Larranaga's team held the Shockers to 19 points in the first half and held on to win 63-55. It helped that the game was played in Washington, D.C., just a few miles away from the Patriots' campus in Fairfax, Virginia.
BENDER: Jim Larranaga, 17 years after George Mason run, leads Miami to first Final Four
Two days after eliminating the Shockers, George Mason managed another shocker of its own. Larranaga's Patriots overcame a nine-point halftime deficit against No. 1 UConn, took the Huskies to overtime, and pulled off the upset to complete a stunning run to the Final Four. UConn entered the game 30-3.
George Mason's run came to an end against Florida in the national semifinal, after the Gators pulled away in the second half. Florida went on to defeat UCLA in the national championship game and secure the first of back-to-back titles.
While more double-digit seeds have started to reach the Final Four, George Mason's run stands among the most remarkable Cinderella stories. Not a single player from Larranaga's 2006 team played a minute in the NBA, and the Patriots averaged under 70 points per game during that season.
Nearly two decades later, Larranaga is at the helm of a Miami team that totally depends on one of the nation's most electrifying offenses. The ability to win both ways is among the traits that has earned Larranaga so much respect.
MORE: Final Four to feature no Sporting News All-America players for first time in 25 years
George Mason wasn't able to make that kind of run again under Larranaga, but the Patriots earned a No. 8 seed in 2011 and played their way into the second round of the NCAA Tournament.
Since that point, the results have painted a pretty clear picture. George Mason hasn't returned to the tournament since Larranaga left for Miami and hasn't won more than 20 games in a season since 2012-13. The Patriots just hired their fourth different coach since his exit.
At Miami, Larranaga has turned the Hurricanes program around. Miami has gone to the Sweet 16 four times under Larranaga after only one appearance in program history before his arrival. The Hurricanes have made their first two Elite Eight appearances under Larranaga, and at 73, the veteran coach is headed back to the Final Four.
In 2006, all that stood between George Mason and history was a favored UConn team. Larranaga again faces the favored Huskies on Saturday, this time on the biggest stage of all with a spot in the national championship game on the line.
Larranaga never took Bowling Green to the NCAA Tournament, but a 22-win season was enough to earn him the job at George Mason at 1997.
After going 9-18 in year one, Larranaga led the Patriots to two regular-season conference titles, two conference tournament titles, and two NCAA Tournament appearances in the following three seasons. He'd stay at George Mason for five seasons after the 2006 Final Four run.
Larranaga is Miami's program leader in wins with 255, and surpassing him is going to be a very difficult task for any future Hurricanes coaches once he decides to hang it up. Right now, that day doesn't seem to be on the horizon.